JCI aims at breaking the World record by having 1000 bikers to compete in the Treasure Hunt.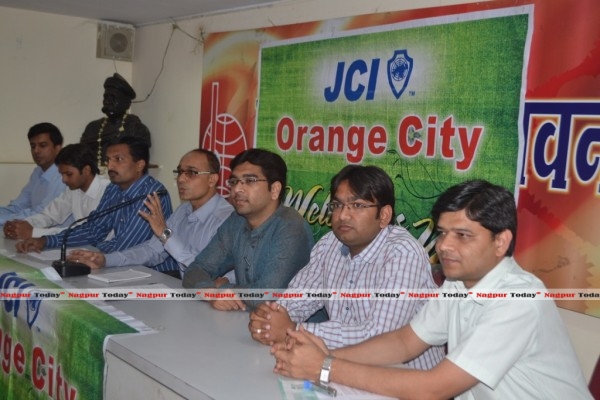 Nagpur Today: The JCI Orange City in association with Hero Motocorp Ltd. is organizing a unique Treasure Hunt 'Hero Goodlife – Khazane Ki Khoj on February 23, 2014 with the aim to promote the theme given by World President of JCI "Unite to Impact".
The President of JCI Orange City JC Hemal Nadian added that the present world record is 924 bikes. The JCI Orange City intends to break the record by introducing 1000 bikers wearing JCI T-Shirts. He said that there will be 30 Clues and Hunt Spots. The entire distance to be covered by the participants is 30 kilometers. Very meaningful and social messages on anti-smoking, save environment, etc to create and awareness among the youth. The Treasure Hunt race will begin from Reshimbagh Grounds. The entire city is devided into four parts and the clues will be dispersed at all area. However, only Honda Bikes will be allowed in this treasure hunt. The flag off of the competition is scheduled for 8.00 am from Reshimbagh ground on February 23, 2014. 86 registrations have already received.
It has been observed that today everyone is busy and self centric but if we are united we can fight against evils like corruption, poverty etc and create a Positive change in the society and thus contribute in the growth of moral value of the country.
'Unite to Impact" is the theme of JCI for the year 2014 and so JCI is presenting a unique Treaure Hunt 'Khazane Ki KhoY on this theme in the city of Nagpur.
JCI Orange city known for organizing mega public relations events in the city like Go Green World's largest musical chair, Vintage Car Rally, Twins Carnival, Spell bee etc is organizing Treasure hunt for 300-400 bikes every alternate year.
This year JCI Orange City 86 Hero Motocorp Ltd are also attempting to create a World record of Largest Treasure Hunt by registering more than 1000 Bikers. Talking about the competition, all the participants would be given clues, related to hidden spots in the whole Nagpur city, they need to solve the clues and visit maximum number of spots within minimum time.
The registration fee for the participation of the competition is Rs.200/. However the participant must have Hero / (Hero Honda) two-wheeler to participate in the contest. The participants will get T-shirts, petrol coupons, gift hamper and/or discount coupons.
The winners of the contest will get a total cash prize of Rs.21,000/- & attractive trophies.
Those present on the dais include President JC Ravi Karia, Past Presidents JC Hemal Nadiyana, JC Ritesh Mehta, Secretary JC Shrikant Rathi, VPMO JC Swastik Jain, Project Director JC Girish Manuja and Project Co Ordinator JC Akash Jain.