Nagpur: JCI Nagpur Medico hosted launching party of Mr. & Mrs. 2019 at Club Rosetta Elite recently. The event was celebrated as a part of cultural night. Fellowship and get togethers are important part guidelines of JCI, hence President JC Dr. Smita Pakhmode planned cultural extravaganza in the form of members performances and live DJ floor. Project Directors Treasurer JC Dr. Pankaj Agrawal, Past President JC Dr. Sushil Lohiya & Dr. Sanjay Pakhmode played lions share in execution of cultural night. Past zone president JCI Sen. Rajendra Jaiswal was chief guest for cultural night. LOM Secretary JC Dr. Jasmeet Chandhok unveiled brochure of JC week and explained about different activities planned for JC Week which will be celebrated from September 9 to 15.
Main attraction of the cultural night was launching of Mr. & Mrs. Medico 2019 which is scheduled on September 9 2019 at Vasantrao Deshpande Hall. Project Director and Vice Presidents JC DR Swati Sarda and JC Dr. Deepika Chandhok was MOC of the cultural programme introduced all participants and asked them to present formal couple walk.
Participants of the Mr. & Mrs. Medico 2019, the Doctors couple from different medical & Dental specialities Dr. Sudhir & Dr. Vaishali Mamidwar, Dr. Alok & Dr. Shilpi Umare, Dr.Ashish & Dr. Madhavi Ambhore, Dr. Irshad Pathan & Dr. Sana Pathan, Dr. Deepa & Dr. Nakul Ambhore, Dr. Sakshi & Dr. Mohasin Quazi, Dr. Ashish & Dr. Divya Asudani, Dr. Siddharth & Dr. Parul Saoji & Dr. Nilay and Dr. Meenakshi Hande presented couple ramp walk amidst huge round of applause. Chief guest JCI SEN Rajendra Jaiswal & President JCI Nagpur Medico JC Dr. Smita Pakhmode unveiled the banner of Mr. & Mrs. Medico 2019 in presence of all participants, Project Directors and Immediate past president Dr. Sachin Deaokar, Past presidents. Chief guest, President and Project Directors cut the cake of Mr. & Mrs. Medico to announce launching of the most glamorous event of JCI family.
President briefed about different rounds of the contest and acknowledged sponsors. He thanked Dass Jewellers Empresa Heights for sponsoring traditional round. Dass jewellers is sponsoring gifts vouchers for winners and jewellery for their round. President also expressed gratitude to Big Bazaar, VIMS Hospital & Sayali Children Hospital for being associate sponsors.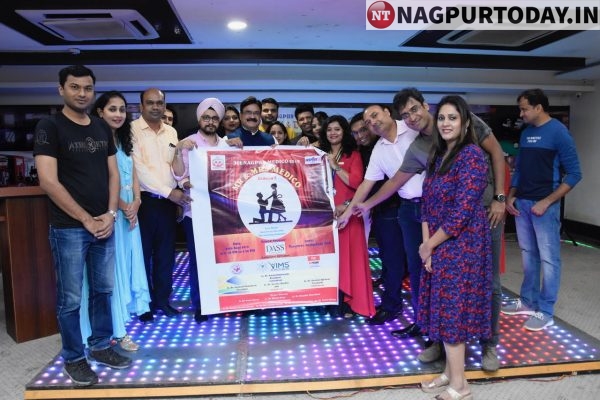 The cultural evening was celebrated with enthusiastic participation of various performances of members with family. Baby Pavika Agrawal, Mrs. Suvidha Agrawal with daughter Siddhi & son Soumya, Sayali Pakhmode, Sahana Chandhok & Dhanya Jaiswal, Arohi Zarariya , Rijul Mamidwar performed dances. Harita Sarada played piano while Dr. Dinesh Sarda Sang the song. Flute performance of Pushkar bhai and singing by Nimisha Hande enthrall the audience.
Every participant was encouraged with the gifts. All members enjoyed DJ and delicious dinner. Project Director Dr. Kshitij Bang, Dr. Manju Chandankhede & Past president Dr. Viral Shah, Dr. Ashish Khandelwal, Dr. Dinesh Agrawal were present at the evening.