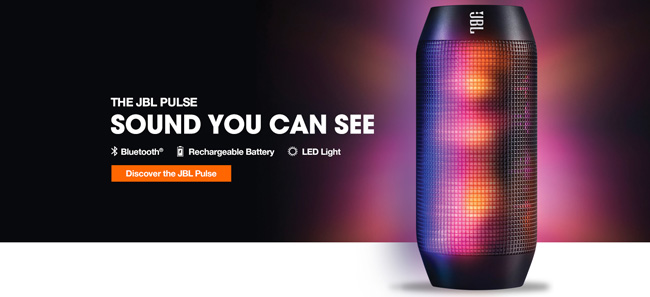 Nagpur News.
Portable sound devices are the most sought after personal fixation these days. The city technology lovers have also gradually inclined towards making their desk adorned with wireless Bluetooth speakers that make the things clutter free. Seeing the spur in demand, the electronics companies are coming up with the frequent launch of new piece in this segment with added features. And latest proposition comes from JBL – an American audio electronics company who made two back to back launch of wireless Bluetooth speakers – JBL Flip II and JBL Pulse.
Let's take a look at how these two devices fetched on performance parameter and style scale.
JBL Flip II is the latest wireless Bluetooth speaker from the American audio electronics company currently owned by Harman International. It's classy-looking, for a start. And it's fairly simple to pair it with a mobile phone, laptop or a tablet. The sound emitted is hugely impressive for its size and price. The speaker retails for Rs 8,990.
For those who look forward to stand out in the crowd, JBL has presented another Bluetooth speakers – JBL Pulse.
The JBL Pulse will mesmerize you as it fills the room with its booming sound and bright colors. This is hands down the most fun we have had in a long time with a Bluetooth speaker. We were disappointed that there was no included carrying case; since the Pulse just begs to be taken everywhere. However, we do love how smoothly the JBL app integrates with the speaker and with future light shows coming; JBL has made sure the good times roll well into 2014. The JBL Pulse retails for $199.95 and is available now.
Back to the Flip II, It is true that only full-fledged speaker systems are capable of emitting loud and rich, quality sound, but for sheer convenience nowadays, most people store their music collection in their personal devices such as a mobile phone, tablet or a laptop. Flip II is much better than other Bluetooth speakers in the same price range, having a big sound impact than most of the other similarly priced. It performs very well, has a great build quality and decent battery life.
As for JBL Pulse it is actually a great speaker too. It is loud and will fill the room with music. Its strengths are definitely the highs and mids and it provides nice low-end warmth on select songs too. Not all music is created equal and we found that the Pulse preforms better on some songs rather than others. For example, Rihanna's 'Stay' sounds amazing, while Pink's 'Try' left our ears stinging with its slight distortion. MS MR's 'Hurricane' sounds absolutely haunting, while Fitz and the Tantrums 'The Walker' sounds tinny at some points.
Talking about technology the Flip II uses two drivers and a built-in bass port for powerful bass that adds dynamic depth to your listening experience along with crisp vocals all in a speaker that fits in your hand. And because sometimes your phone is for more than music, the Flip II has a built in microphones and SoundClear echo and noise cancellation technologies so you can use Flip II as a hands free speakerphone.
On the other hand JBL Pulse stands as the perfect party machine with its cylindrical design and pulsating LED light show that throbs as the music plays on. A mesh metal wraps the speaker which only enhances the pulsating lights that are about to flicker before your eyes. The Pulse's nifty light show can be controlled via two different methods. On the body of the speaker, the listener can adjust the intensity, or the style of light show they would like the Pulse to display. The second, and probably the most interactive way to control the speaker is via the JBL App. Download the app to your iPhone (Android App coming soon!), and you can sync new light shows to the Pulse or adjust the many different LED settings built into the app.
Exploring the box of Flip II will reveal portable stereo speaker, a USB adapter and USB cable and a carrying case, plus a quick-start guide. In terms of design, it is cylindrical therefore, you can place it either vertically or horizontally. The speaker measures 65 mm x 160 mm, is pretty lightweight and in terms of build quality, it's very solid, and definitely feels premium, worthy of the JBL name. No remote is included because your mobile phone or the tablet acts as a remote.
The Flip II is available in a variety of colours—black, white, red, yellow and blue. Inside the Flip II are two drivers with a 2 x 6 watt amplifier. There's also a 2000 mAh Lithium-ion polymer battery, which is supposed to last five hours of continuous music. If you play the speaker at higher volumes, you probably won't hit that, but you can do better if you turn down the volume to quieter levels.
In the box of JBL Pulse you will not find much except 1 USB adapter with USB Cable and a Quick-start guide. The bad part is that it provides no carrying case.
And the Bottomline…
The Flip II is one of the few standout products in the Bluetooth speaker category, featuring a top-notch design and very good sound for its size. It distinguishes itself enough to make it easily recommendable!
JBL Pulse comes with Ingenious design that will intrigue everyone. Loud booming sound that fills the room. Very portable. Great app integration. The most fun you'll ever have with a Bluetooth speaker.
Company Info
JBL was founded in 1946 by James Bullough Lansing. Their primary products are loudspeakers and associated electronics. There are two independent divisions within the company—JBL Consumer and JBL Professional. The former produces audio equipment for the home market while the latter produces professional equipment for the studio, installed sound, tour sound, portable sound (production and DJ), and cinema markets.