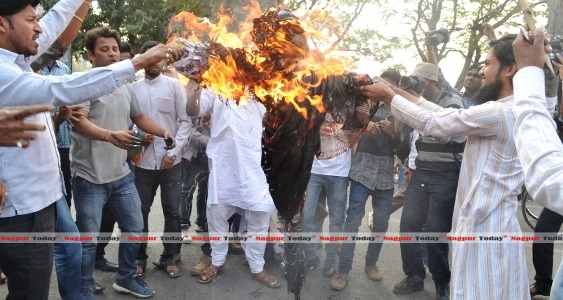 Tamil Nadu government's decision to free the convicts involved in the assassination of former Prime Minister Rajiv Gandhi has been drawing ire of Congressmen from all over the country. The impact was evident in Nagpur where City Youth Congress workers on Friday burnt the effigy of Tamil Nadu Chief Minister Jayalalitha. The protest was clubbed with severe agitation amidst sloganeering by the party workers. The protesting workers also hanged the symbolic effigies of all the three convicts – Murugan, Santhan and Perarivalan.
Jayalalitha has ordered release of all the three, while the Supreme Court on Tuesday commuted the death sentence of the three to life imprisonment citing inordinate delay in responding to their mercy petition. The apex court has also directed the decision on the three convicts to be taken by Tamil Nadu government which eventually ordered to free them. This has irked Congress workers.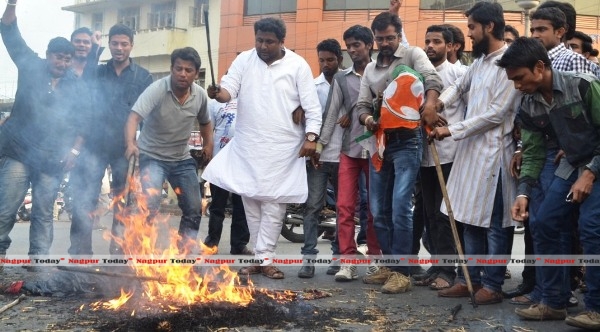 Youth Congress workers on Friday turned up on street adjacent to Gandhi Sagar lake in Mahal area and vented their ire through setting ablaze the effigy of Jayalalitha.
Talking to Nagpur Today, Nagpur City Youth Congress President Bunty Shelke alleged that Jaya had taken the decision in order to consolidate her vote bank. Terming it as a disregard to former Prime Minister Rajiv Gandhi he said that his party would not tolerate any such move and continue to register their protest.
The party workers have warned that if Jayalalitha does not take back her decision, countrywide protest will be intensified and the onus would lie on Jayalalitha.
Road approaching through Gandhi Sagar lake remained choked due to agitation, which was later cleared by Ganeshpeth police.