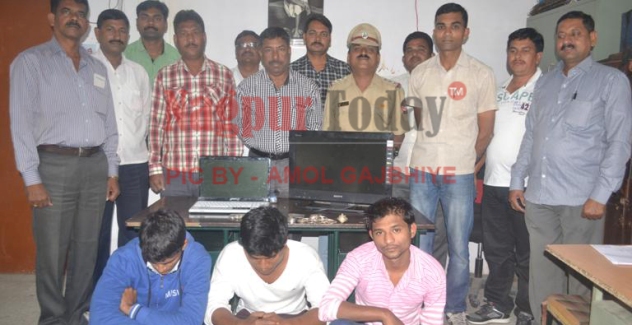 Nagpur News.
In a cracking success, Jaripatka police have arrested three hardcore burglars in a well-planned strategy and recovered stolen booty worth lakhs from their possession.
According to police, the accused have been identified Amol alias Pralay (21), resident of Kushi Nagar, Jaripatka, Abhay Patle (22), and Manoj alias Manya (22), resident of Kabir Nagar, Kamptee Road, Nagpur. The Jaripatka police received a tip-off that Manoj alias Manya was trying to dispose of a stolen laptop at Patankar Square. Abhay Patle was also with him but was standing far away from the spot. The police laid a trap in order to nab Manoj red-handed. Manoj, unaware of the police trap, was negotiating the "deal" with a probable customer. At the same time, police surrounded him and caught hold of Manoj with the laptop in his hands. However, Abhay Patle, who was standing away from the spot, fled the scene as soon as he saw Manoj in the powerful hands of Jaripatka police. Abhay Patle straightaway went to Gondia to escape the police net.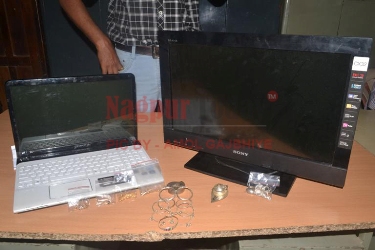 The Jaripatka police took Manoj alias Manya to police station and started an intense grilling of him. Manoj could not stand the hard questioning and spilled the beans. He named Abhay Patle and Amol alias Pralay, an externee, as his accomplices and also confessed house-breakings, chain-snatchings, robberies under Pratap Nagar and Jaripatka Police Station jurisdictions. The Jaripatka police then went to Gondia and laid a trap at the Railway Station and other possible areas. Abhay Patle, also not aware of the police trap, called Amay alias Pralay to Railway Station to meet him. When Amay arrived, police in the waiting, nabbed both the accused and brought them to Nagpur. Police recovered LCD TV, laptops, gold chains and other stolen material worth more than Rs 1 lakh from their possession.
Jaripatka police have booked all the three accused under Sections 454, 457, 380, 34 of the IPC and put them under arrest. Police are probing the matter further.
The Jaripatka police team which cracked the burglaries include PI Bhatkar, PSI Shirsat, Head Constables Uttam Gotmare, Bhaskar Rokde, Rajesh Barne, constables Dharmendra Wahale, Bhimrao Bambal,and others.