Janhvi's emotional tribute to Sridevi: "I Love You, My Everything"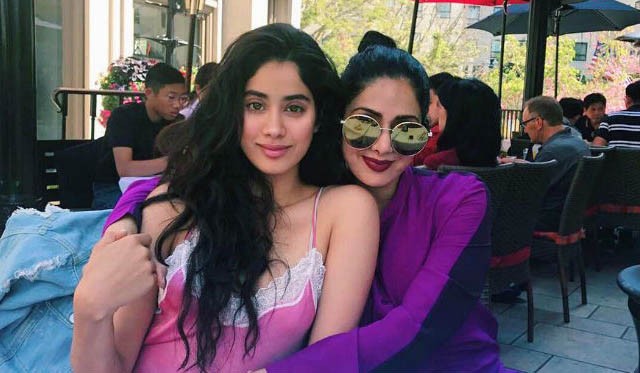 New Delhi: A week after losing Sridevi, her mother and "her everything," Janhvi Kapoor posted an emotional note for her fans with a request to remember Sridevi "fondly." On Saturday, Janhvi Kapoor posted several throwback pictures of her family – her parents Sridevi and Boney Kapoor and sister Khushi – with a note in which she wrote: "There's a gnawing hollowness in my chest that I know I'll have to learn how to live with. Even with all the emptiness, I still feel your love… Every time I close my eyes, I only have good things to remember." Janhvi Kapoor was elder of Sridevi's two daughter also wrote: "I ask that you remember my mother fondly, pray for her soul to rest in peace… She didn't understand frustration or malice or jealousy. So let's be that. Let's be full of only good and give only love. That would make her happy, to know that even in death, she gave you all something."
Sridevi died by accidently drowning in the bathtub of the hotel she was staying in Dubai on February 24. She was brought home after all formalities three days later. Sridevi was cremated with state honours on Wednesday. According to a mid-day report, Sridevi's ashes will be immersed in Rameswaram today.
In her Instagram post, Janhvi highlighted the bond her parents shared and wrote: "Me and Khushi have lost our mother but papa has lost his "Jaan"." She added: "Please know that the biggest part of my mother was the love she shared with papa. And their love is immortal because there was nothing like it in the whole world. Nothing as joyful and pure and no two people as devoted to one another as they were. Please respect that because it hurts to think anyone would ever try to tarnish it."
Read Janhvi's full post here:
Janhvi Kapoor is gearing up for her Bollywood debut in Shashank Khaitan's Dhadak, which has been produced by Karan Johar. The film also stars Ishaan Khatter and it is expected to release later this year.