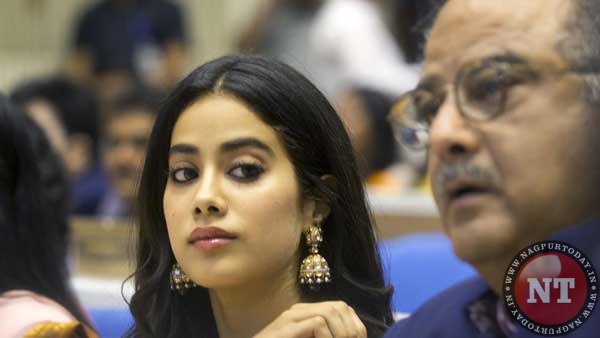 Janhvi Kapoor reminds everyone of her mother Sridevi in everything she does. The upcoming actor not only chose to wear her late mother's saree as she received a posthumous National Film Award on Thursday but also embodied her mannerisms at the event.
Janhvi was spotted wiping sweat off her tired father Boney Kapoor's face in a photo. Sridevi's fans quickly found that they had seen something similar to this tender father-daughter moment in another photo taken a few years ago. They dug up an old photo in which Sridevi herself can be seen wiping sweat of Boney's forehead at the Filmfare Awards ceremony in 2013. The side-by-side photos of the family are being shared by Janhvi and Sridevi's fanpages on social media.
Janhvi wore a beautiful silk Kanjeevaram saree to the 65th National Film Awards in New Delhi as she accepted the Best Actress Award on her mother's behalf for her work in Mom. She was also joined by her younger sister Khushi, who also honoured her mother's Tamilian roots by wearing the traditional half-saree.
Feeling extremely proud of his wife, Boney said this award was what she got after working for 50 years in the film industry. "I am extremely happy and proud. This is what she's got after working for 50 years in the industry; she would have cherished this award all her life. This is the highest honour. We miss her and today we miss her even more. I would have preferred, she going and accepting the award and me and my children sitting down and clapping for her," he said.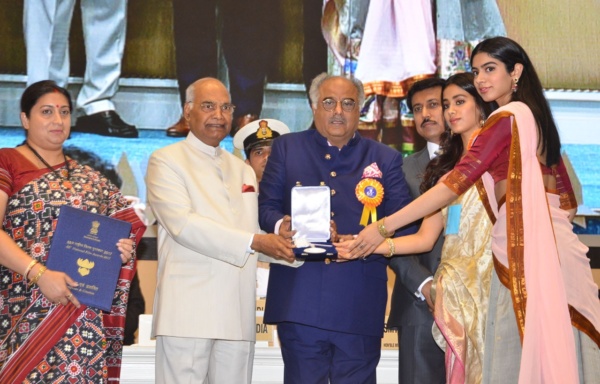 Sridevi died of accidental drowning in a Dubai hotel in February. The loss was mourned by millions of her fans around the world.
Janhvi will soon be seen in her Bollywood debut film opposite Ishaan Khattar, Dhadak, on July 6.