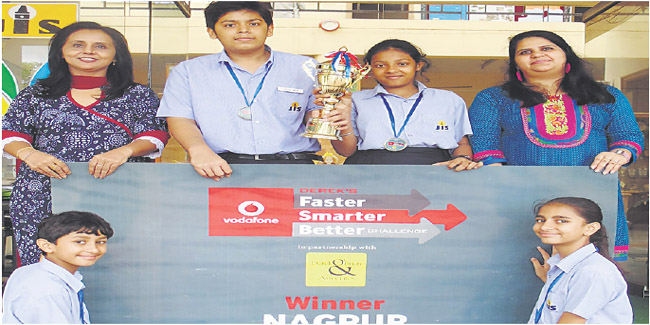 Nagpur News: Students of Jain International School, Nagpur proved that they are second to none, by winning the trophy for the "Best Quiz Team" of Nagpur in Vodafone Derek's Faster Smarter Better Challenge 2013 in partnership with Derek O'Brien & Associates.
The champions of the team were Vyoma Varsha Std VI, Avni Tambi Std VII, Vedaant Tambi Std VIII and Rohit Pant Std X.
The competition was, indeed, a feast for discerning minds with the participation of Nagpur's finest schools.
The students thanked the teacher in-charge Charu Gulati for her guidance and motivation. They were congratulated by the management, principal Anmol Badjatia, the staff and students for their stupendous performance.