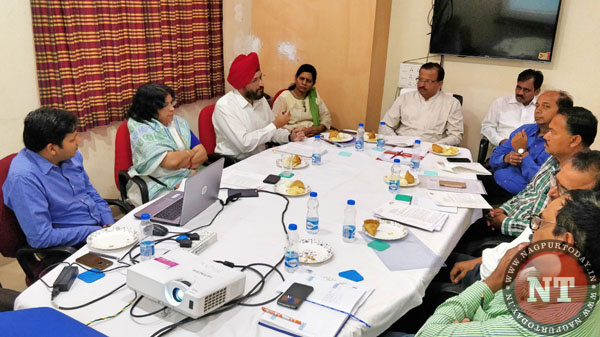 Nagpur: After receiving suggestions on Jai Stambh Square traffic ease in 2015 by Vidarbha Taxpayers Association (VTA) and DRUCC Central Railways and also Maharashtra State Road Development Corporation Limited (MSRDC) preparing their suggestion; MSRDC appointed RITES Limited to submit their analysis report on these proposals.
In January 2018, RITES submitted their Final Report on these 3 proposals and accordingly MSRDC called upon a meeting by inviting CM Office, Collector, Commissioner NMC, Chairman NIT, Traffic Police, ZRUCC, DRM Central Railways and VTA.
In this meeting Sujata Savant – Addl. General Manager & Amit Singh Baghel – Architect Planner Manager Urban Transport from RITES presented their detailed report along with projection slides and rejected all three proposals as submitted by VTA, MSRDC and DRUCC in 2015.
Representing VTA its secretary Tejinder Singh Renu said that VTA appreciates MSRDC's efforts in preparing detailed report through RITES, with extensive data of road usage of entire affected area; wherein rightly it's mentioned that Jai Stambh Square is one of the busiest junctions of Nagpur City, however this report boldly highlights its inappropriate geometry. Likewise report also emphasizes of hardly any use of Flyover in front of Railway Station.
Renu submitted that I however find few shortcomings in this Final Report, like considerable delay in submitting report as the text reflects existence of old (Britishers) Santra Market Bridge in the report, which means the period of survey is done in end of 2015 or early 2016; thereby considerable changes occurred in last 2-3 years. And certainly complete liberty of planning was probably not given to RITES, as they prepared their study only on suggestions submitted by VTA, MSRDC and ZRUCC; else reporting could have been more comprehensive and with much better options.
Renu said, RITES suggested recommendations in 4 options, immediate, short, medium & long term, wherein Long Term is just in one small paragraph, which should actually be in more detailed format with likewise study of future requirements. Moreover RITES emphasis is more on signalization on Jai Stambh Square having circle interval of 140 second, which I strongly believe will result in huge Q Length on Kingsway and unplanned load on Ram Jhula Phase I during waiting period. Moreover this is no way long term solution.
In VTA's view, for long term solution to ease traffic on Jai Stambh Square, it's highly recommended that the divider on road should continue without break from Ram Jhula to Kingsway, whereby we can eliminate crossing junction on Jai Stambh, by this we'll never have traffic chocking at this place. A restriction of turns as suggested by RITES is solution; we need proper detailed infrastructure planning for long term usage of this crucial square. And if new infrastructure planning demands demolition of existing Railway Station Flyover completely or partially, it should be done as it is most likely the only flyover in the world which actually doesn't fly over anything and I call it a commercial complex with road on terrace. Moreover this flyover, instead of any relief is causing more inconvenience on the road and to the railway station users, along with extremely shabby first impression of city, once you come out of Railway Station.
VTA strongly believes that with two heavy weight ministers Nitin Gadkari & Devendra Fadnavis from Nagpur and best of brains as commissioner, collector and chairman in Nagpur Administration, it's highly recommended that integrated preparation is done with aim of long term planning. So that our generations ahead do not face the problems we are going through. And such planning should take care of parking in multi level building, including parking for radio taxis, pedestrian crossings with escalators, shifting of bus stops on Kingsway, acquiring required land and avoiding inter-crossing junctions.
Shashank Dabholkar – PS to CM and Sunil Mitra – DRUCC Member also submitted their views wherein he insisted that underpass through Ram Jhula I & II by a slip road will surely reduce one side of traffic. Sunil Gujjelwar – Superintending Engineer NIT also categorically agreed that more detailed planning is required to eliminate traffic chaos with long sighted vision. Ujjwal J. Dabe – Superintending Engineer MSRDC appreciated the suggestions submitted by VTA in this meeting; he also applauded the efforts of RITES.
Others present in the meeting were Shirish Pande – SDO/SDM, Sangita Jaiswal – SE MSRDC, B. D. Joshi – AEZ, D. D. Jambhulkar – EE Traffic NMC, A. J. Bodile – Dy EE (Traffic) NMC and others.