Nagpur: The long drawn controversy that emanated from flouting norms in setting up eateries on the bank of Futala Lake has eventually turned towards its end. All the 20 restaurants will have to be vacated by November 30, to make way a gallery. The development came after the state government has rejected private operator Sell Ads' appeal seeking extension of period to operate the restaurants.
Along with gallery which will have seating capacity of 5000, Nagpur Improvement Trust (NIT) has also been directed to build a musical fountain, light and multimedia show in the lake.
After sitting on the appeal for 13 months, state's urban development department (UDD) on November 3 passed an order in NIT's favour. NIT and Sell Ads both received copy of the government order a couple of days ago. The new project will cost Rs 50 crore for which the tendering process has already been started. The extension period of 18 months has come to an end on August 16. Sell Ads should also deposit amount if it has utilized the allotted space after lapse of extension period, the order stated.
"NIT had passed an order on September 14, 2015, giving extension of 18 months to Sell Ads. NIT also asked Sell Ads to deposit a premium of Rs 45.35 lakh including Rs 8.82 lakh interest. Sell Ads filed an appeal seeking extension of 28 month and four days against 18 months. NIT's order is appropriate on extension and also premium plus interest amount," the UDD order said.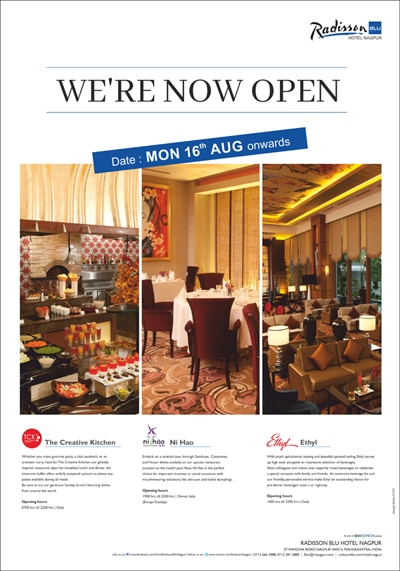 A media report says that a letter asking Sell Ads to vacate the space would be sent on Tuesday. "Sell Ads will be given time upto November 30 to vacate the space. It will also have to pay premium and interest upto the date of leaving," the report quoted an official as saying.
Shailen Mehta of Sell Ads said that notices have been issued to all restaurant owners on Monday directing them to vacate the premises within seven days. "Letter has also been sent to NIT informing it about notices served to restaurants owners. We have sought NIT's help in removing the restaurants in case owners failed to do so in prescribed time," Mehta said.
Sell Ads is not going to challenge UDD's order in High Court. But it may challenge decision on premium plus interest amount.
Earlier, UDD had favoured Sell Ads and not NIT. Actually, NIT had allotted the space to Sell Ads for five years from February 17, 2010. Citing loss due to dispute between the NIT and Punjabrao Deshmukh Krishi Vidyapeeth (PDKV), Sell Ads filed an appeal with the UDD in 2014 seeking extension. UDD had set aside NIT's order and directed it to revise it. Accordingly, NIT revised its order and gave an extension of 18 months.
In fact, restaurant owners are not listening to Sell Ads for last three years. It will be interesting to see what they do as NIT and lesee both want them to vacate the premises now.