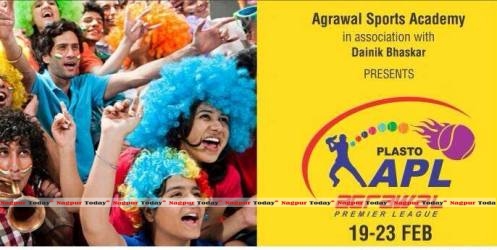 Nagpur News.
In an innovative effort to connect community members through sports, a unique cricket event – Agrawal Premier League will be organized in Nagpur on the lines of much popular Indian Premier League (APL). Agrawal Sports Academy, a non-registered organization with 18 trustee members on board will be conducting the sporting event from February 19 to 23 at Kachhi Pisa Ground in Lakadganj here. All the trustees have given 11,000 each to establish the academy.
Plasto Group had acquired the main sponsorship of the event for which it paid Rs 2.5 lakh.
The auction for the players took place at Hotel Centre Point on February 2 when organizers bid for 8 teams – Pushkar & Bansal, Agra Vansham, BS Khemuka, Jejani Royals, Agrawal Warriors, Agrasen Yodhha, Agrasen Veer. The teams are owned by Chhotu Agrawal, Kishore Agrawal, Shreyansh Jejani, Anup Agrawal, advocate Radhey, Dilip Agrawal, Vishal Agrawal and Khemuka.
Kishori Himmatlal bid for a team for the highest consideration of Rs 2 lakh while the maximum bid for any player was pegged at Rs 51,000. All the players are young members of Agrawal community who paid Rs 100 each to get on board. Nearly all the teams for sold for the prices ranging between Rs 1.5 lakh to Rs 2 lakh. The auction for the players were performed at Hotel Centre Point on February 9. A fashion show was also organized on the occasion.  Cheer girls have also been roped in to add attraction to the game.
About 100 banners will be placed during the event, the expenses for which would be funded from the grant of Rs 5000 each to be taken from the team owners. Besides each team owner would have to foot the expenses of around Rs 5 lakh to be incurred on players' uniform, dress material, promotional campaign and drawing viewers to boost the confidence of their players.
The team owners have appealed to all Agrawal members in order to make the event a grand success.