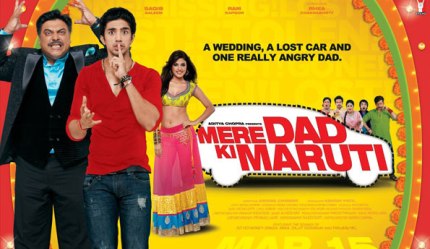 Starring: Saqib Saleem, Rhea Chakraborty, Ram Kapoor, Prabal Punjabi and Ravi Kishan.
Director: Ashima Chibber
Genre: Comedy
Music Director: Sachin Gupta
Mere Dad ki Maruti is a film for all mass. Debutant Ashiba Chibber must get full marks for her sweet and simple story.
Plot: The movie revolves around a situation in which a young Sameer (Saqib Saleem) boy who is in his 20s from the well-to-do Punjabi Khullar family sneaks his father Tez Khullar's  (Ram Kapoor-Bade Acche lagte hai fame) brand new Maruti car out to impress Jasleen (Rhea Chakraborty-a new face)  who was known as Shakira of Chandigarh.
Unfortunately the car is stolen and Sameer gets into big trouble and he can't reveal this great truth to his cranky father. Even he cannot afford to buy a new car as his father was suppose to gift this car to his elder sister Tanvi in her wedding day. Sameer has only two people from whom he can seek help, his friend Gattu (Prabal Punjabi) and his girlfriend Jasleen. Now the question is  what provision or planning will they do, to get their car back. Will these three friends make some miracle?  Will Sameer get his car back? To satisfy your curiosity you must watch this movie.
The story catches all type of people. Mere Dad ki Maruti is must watch movie with family which will make you laugh with its decent and class comedy. The characters has acted well in this movie and made it real rather than reel tale. The movie has essence of Punjabi Tadkas as well as the intellectual story inside it. There is no loop hole in the movie. The whole drama flows with a pace that keeps the audience engaged and excited. Debutant Ashima (Director) kept the story subtle and didn't overloaded or overboarded it. Again the new director has proved that even healthy comedy can attract the audiences to the Cinema Screens.
Verdict: Watch with your dad, in the month of March you may get an appraisal. (Raise in pocket money) .Overall it's all about your loving your DAD. Ashima Chibber "tussi chha gaye"
4 stars to Ashima Chibber