"There is no such thing as 'Urban Naxalites', I reject this terminology" said the former Home Minister & Finance Minister.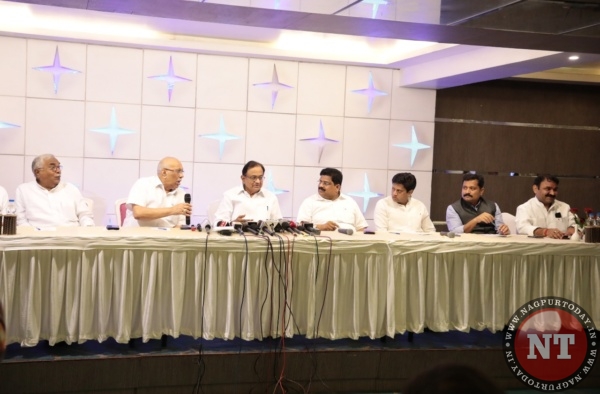 ---
Nagpur: Senior Congress leader P. Chidambaram was in Nagpur this Saturday morning to address the local press on issues such as the Rafale deal of Modi government and adverse effects of demonetization, followed by GST.
At the conclusion of the p.c. many media persons, including NT Editor questioned him about his party's response to the arrest of five Activists from across the country last week. In the media world these arrests have been causing more buzz than other issues, since it hits closer home.
When asked to respond on arrest of so called 'Urban Naxalites' Chidambaram countered sharply that he did not agree with that term and would answer the question only when it was replaced.
"They are left wing intellectuals, Activists working with tribals and the downtrodden; they are being intimidated by the present government because they are perceived as strong opponents of the Right wing. The S.C. has come down heavily on the arrests and disallowed police custody. In the 3 days since they were arrested, not a shred of evidence has been put forth by the Maharashtra police.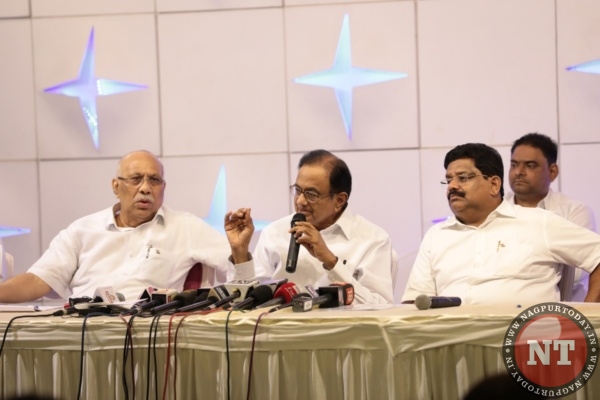 "These are strong arm tactics to muzzle freedom of expression and kill any ideological opposition" he opined.
When reminded that some of the same people, were earlier arrested by UPA governments too, Chidambaram replied that he was not aware of what charges the then Maharashtra government had made the arrests.
"I was not Home Minister then" ( in 2007) he pointed out but said "if they were arrested for their leftist views and activities only " it was wrong then, and it is wrong now."
"Cannot yet call Rafale deal a scam"
Chidambaram began his press conference re iterating the questions his party has about the Rafale Deal signed by Modi government.
There was no transparency on pricing, on delays in delivery ("it was supposed to be an 'emergency purchase', do such emergencies get acted on in 3 years since the first Rafale is going to arrive in India only in September 2018 on a deal signed on 10th April 2015?" ) and selection of offset partner, alleged P.C.
"By going with a private Company instead of HAL, a renowned PSU, grave injustice has been done to the country's public sector which is a major employer of youth and professionals. Even if the decision was taken by French company Dassault could the Indian government not had pressed the case of HAL over private players, as UPA had done? Is HAL an orphan now?" He asked.
But when questioned if Rafele was on way to becoming a major scam like Bofors, Chidambaram quickly replied that it had been ruled out that Bofors was a 'scam' in any way but at the same time he demurred from calling the Rafale Deal a scam either. "As of now we cannot say that" he replied.
(His views do not seem to coincide with his party President Rahul Gandhi who has openly said that the Rafele deal smacks of 'international corruption' and has also variously called it 'the Great Rafale Robbery')
The former Finance Minister also alleged that Defense Minister Seetharaman had feigned ignorance when asked about the deal's offset partner when the very next day Anil Ambani had laid the foundation stone for the project in the presence of French Minister, Ambassador, Union Minister Gadkari and Maharashtra C.M. Fadnavis.
"Why did she not come out honestly with the truth, on this and other questions we have been asking" he stressed.
"Demonetization has been the biggest and most elegant (black) money laundering scheme of the Indian Government".
While referring to the Reserve Bank of India's (RBI) annual report giving a balance-sheet of demonetisation (DeMo), Congress MP P Chidambaram mentioned, "The RBIs report clearly states, of Rs 15.41 lakh crore demonetised currency notes of Rs 500 and Rs 1,000 denominations, only Rs 10,720 crore did not reach to the RBI.
The government had initially expected that approximately Rs 3 lakh crore of demonetised currency notes would not come back to the banking system, however, only 0.7 per cent of demonetised currency notes were junked in the exercise, which ultimately makes DeMo a devised money laundering exercise which only helped personnel with black money to convert it into white."
"I suspect 0.7 % of the money which didn't make it to RBI, is the currency in Nepal, Bhutan and some of that was lost or destroyed, which no scepticism was failed attempt to flush out black money and end corruption," he mentioned on this occasion.
"Even now the money situation has not been normalized. ATM is supposed to be All Time Money, but it has become more like a diary business where milk is available between 10 a.m. to 12 a.m. In M.P. they are calling it 'Ayengi toh Milegi' " Chidambaram said displaying his poor Hindi despite being prompted by former Nagpur M.P. and Union Minister Vilas Muttemwar, sitting on his immediate right.
Many other Nagpur Congressmen like Nitin Raut, Abhijeet Wanjari, Mullack , Umkakant Agnihotri and Vikas Thakre were on the stage with Chidambaram.
The press was also present in huge numbers as against his earlier press conference held immediately after demonetization.