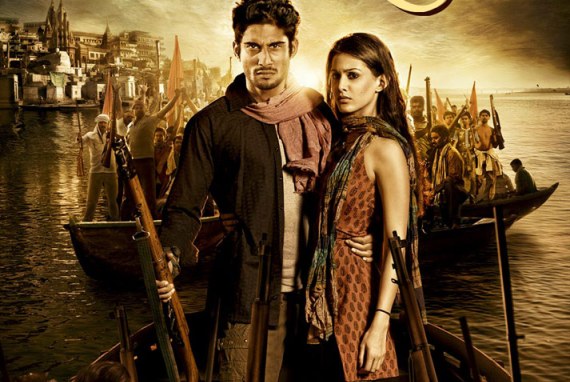 Director        : Manish Tiwary
Cast               : Prateik Babbar, Amyra Dastur, Rajeshwari Sachdev and Ravi Kishen
Director Manish Tewari frames 'Issaq', and how! This 'not-atol-appreciated' flick has definitely let the expectations down.
Talking about the movie in brief, Issaq, the Romeo and Juliet retake by director Manish Tiwari is starring Prateik and Amyra Dastur. And this is what she messaged us: "Prateik and Amyra fail to do justice to the small town characters they are playing in the film. The protagonists' disappointing performance clashes with the beautiful locales of Varanasi…ironic! The supporting actors – Ravi Kishen, Makrand Deshpande, Prashant Narayan, Vineet Kumar Singh from Gangs of Wasseypur fame are the real heroes of the film – they are rustic to the core. Half the film is over and Issaq is still trying hard to recreate the classic Romeo and Juliet passion, but unfortunately we don't feel the love yet!"
Let's move on to the story of the film. No spoilers here, just what the director has already said — Issaq is an adaptation of Shakespeare's much-adapted Romeo and Juliet. The counterparts of Capulet and Montagues are Kashyap and Mishra. (If you missed this stunning usage of alliteration here, you should probably never watch a Bollywood film ever again.)
There are too many cracks in the film's script. Trying to elucidate the tale of two families who have a history of rivalry between them, the writers unnecessarily adds a communist angle to it, almost to enrage you. With very little knowledge of what pushes communist terrorism to the brink of violence, the Laal Salaam part of the story is forced and pointless.
The film is inconsistent. It failed to keep us hooked, and Prateik and Amyra simply cannot manage to step into the shoes of small town sweethearts. Their urban accents, the way they dress and how they carry themselves – nothing complements the rural and charming appeal of Benares. The quarrels look pointless and romance is flat and dispassionate.
Issaq is a tedious film which retells the story of amateur love. A flaky plot and wavering narrative makes Issaq a novel concept that is compromised at the altar of the director's need to prove his artistic bent. I am going with a 2/5 for this one. Those precious 2 hours of my life are never returning!