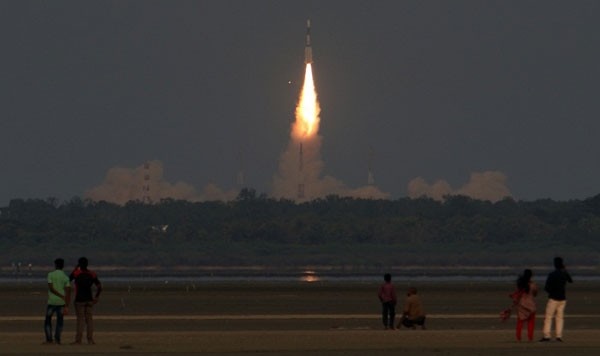 New Delhi: The Indian Space Research Organisation (ISRO) is planning to launch a number of important satellites in the coming months. Some of these satellites will have strategic importance as they will be used by the military to keep an eye on the movements of India's hostile neighbours.
In September, ISRO will reportedly launch a satellite, Gsat-7A, for the Indian Air Force for surveillance purpose. Another satellite, an advanced remote sensing equipment, Risat-2A, will be launched at year end. Both satellites will help the force in keeping our skies free of any intrusion.
TOI reported Gsat-7A will help the IAF in interlinking various radars, airbases and AWACS, apart from boosting the forces network-centric warfare capabilities. It will be similar to Gsat-7, which was launched on September 29, 2013, for the Navy. Gsat-7 had helped the navy greatly as it provides real-time inputs to Indian vessels. It also helps in monitoring Chinese activity in the Indian Ocean.
Risat-2A will boost India's surveillance technology. The satellite will carry a sophisticated radar, which will help in the observation of an area irrespective of low light and weather conditions.
ISRO will also launch its heaviest satellite Gsat-11, which weighs over 5.7 tonnes in June. The satellite's solar panel alone spans 4 metres. The communication satellite will carry 40 transponders in the Ku-band and Kaband frequencies.
Earlier this month, ISRO launched the IRNSS-II navigation satellite, the eighth such satellite to be a part of a constellation, from Sriharikota in Andhra Pradesh. The launch was ISRO's second attempt at sending a replacement satellite.