Isolated AAP shows abhorrence of 'outsider' by the political system in Delhi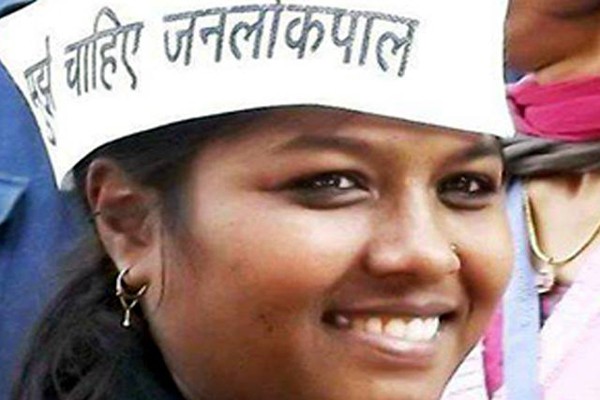 Nagpur: Remember Santosh Koli?
She was killed, hit by a speeding car in 2013 July, just before the elections that first brought AAP to power in Delhi. The country may have forgotten her but her portrait hangs in every AAP office in the country.
Santosh Koli was so close to Kejriwal that he sometime took refuge in her house in Sundernagari where she lived with her father who was a labourer in a textile factory and her mother who worked in an NGO.
She is typical of an AAP leader in Delhi; most of them indeed do come from the ultra ordinary, lowest strata of society. Leaders of other parties also have hailed from lower classes, but the difference is as soon as they become successful politicians they 'migrate' to the upper class. Most of them cannot be called poor any longer. AAP leaders can be…
As an AAP member of Nagpur, Devendra Wankhede says "most AAP workers/ leaders are not career politicians; they do not hail from families where being in politics is a way of life. As our name says, we are really from ordinary walks of life, working in regular jobs. I am myself a lecturer in a college."
In this one thing AAP is different than any other political party in the country – the political class still sees them as 'outsiders'. Someone out to destabilize the 'system'… in fact it is their stated aim to overthrow it!
Naturally, the System will fight back.
Is this what is happening in Delhi right now?
Kejriwal and his government in Delhi, and all his party MLAs are completely ostracized right now. All other party leaders, bureaucracy, police, the Lt. Governor, even the Delhi press – all seem to be arrayed against them.
Otherwise can you imagine, say Yogi Adityanath's house being raided by UP Police?
Or any C.M.'s house in any other state of India being raided by the same state police after his house is called ' site of crime'. Without any notice a posse of 50 police men and women enter his house to inspect and sieze CCTV cameras in his house.
Can you imagine any other state where secretaries refuse to attend meetings called by Cabinet Ministers?
In TV debates on this happening, across channels, one sees a touching solidarity between BJP and Congress spokespersons while they are arrayed against each other on all other issues. (One really wonders why Rahul Gandhi's Congress is not seizing this chance to embarrass Shah by coming to the aid of AAP? Is it because they see Delhi coming back to their fold in the next elections if AAP collapses, as every party is wishing they will?)
Peculiar position of Kejriwal's Delhi government
This is the only government where the CM does not control the state police; they report to the Central Government while supposed to be ensuring law and order in the 'state'.
Delhi is the only state that has a Lt.Governor, not a Governor, and they often seem to be behave as if British were still ruling India and they represented the British Queen!
The only state where Bureaucracy is not accountable – if it ever is anywhere really! – to the state's government but to the Union Home Ministry.
Add to this peculiar position the fact as mentioned above that AAP leaders are not career politicians, and you can understand why they are being isolated and conspired against with such success.
It is clear that the duo of Modi – Shah haven't forgiven AAP for their embarrassing defeat in Delhi polls that came soon after 2014 sweep of the nation by the Modi 'wave'. A wave that was rudely halted in the country's capital itself. How could this be forgiven??
Kejriwal and company haven't helped either by choosing a path of confrontation with the above elements at every chance. May be given that they are perceived as UFOs invading the airspace of Earth, this confrontation was inevitable.
Are happenings in Delhi meant to distract from Nirav Modi economic collapse tsunami?
Mark our words, we haven't seen the end of the PNB 'ghotala' yet. In the wake of this multi billion fraud a lot of other banks/ financial institutes are going to collapse like nine pins. We hear that even a giant like LIC is badly hit.
Business in general is going suffer and the ripples are going to be felt in far corners of the country. (NT has reported how many Jewellery shops of Nagpur have been duped by Nirav's unlce Mehul Choksi. Now news of his misdoings in Gujarat, aided and abetted by the government there are surfacing.)
Was the whole 'slapgate' drama in Delhi orchestrated to distract us from what is happening in our banks and other financial institutes??
The self appointed Chowkidar has failed. Robbers have decamped with valuables… to distract from this, is he shouting "forget the robbery, look there is a FIRE?" Well, in this case, assault of the chief secretary…which began with news of a scuffle surfacing and is now being termed as 'attempt to murder'!
—Sunita Mudaliar (Executive Editor)