Govt allows 24 hour liquor on New Year eve and also acts against liquor transporters and booze drivers!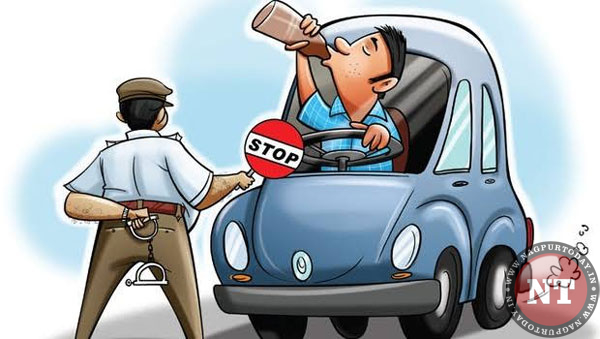 Nagpur: Is Maharashtra Government running its affairs solely on liquor revenue? Is the State Government dependent only on booze revenue to pay their bills? These nagging questions and the double standards of the government have left the citizens in severe dilemma.
On one hand the State Government has decided to give permission to hotels and beer bars to run 24 hour on December 31 night as the New Year rings in. On the other hand, cops nab liquor smugglers or booze drivers in special drives. Ostensibly, both the moves are aimed at boosting revenue of State coffers one way or another.
Subsequent to State Government decision, wine shops, beer bars, permit rooms, hotels would be allowed to serve liquor on New Year eve with much ease. A number of hotels, restaurants, dhabas and other establishments have geared up to mop up moolah by organising New Year bash in their own ways. Liquor will be served at premium on this day. No need to guess on this count. However, police have said that despite the State Government's decision of permitting to run the hotels through the night on December 31, these establishments will have to first seek police permission.
The ground reality though is different, with State Government probably having a vested interest in doing quite the reverse, given the extent of their dependence on liquor as revenue sources. The State Government is increasingly relying on alcohol revenue to pay their bills. Roughly one-fifth of most State Government budget is funded by booze. And, that share is going up by the year.
On the other hand, the city and district police have decided to deploy around 11,000 officials and personnel to crack down on booze revellers and liquor transporters.
Ostensibly, both the moves of State Government have been aimed at mopping up revenue in crores. But the pertinent question pricking the citizens is: Is the State Government becoming more and more dependent on alcohol revenue to pay their bills? The increasing consumption of alcohol will only fuel this dependence.
Then why the crack down on booze consumers and transporters on New year eve? After Christmas, posses of policemen lay in ambush around wine shops, beer bars and other establishments serving liquor. The cops nab drunken drivers or liquor transporters and then recover hefty amounts, sometimes to fill their own pockets and sometimes to fill State coffers!
One can understand police cracking the whip on spurious liquor mafia who are now active in city. Recently, cops had intercepted a tipper truck transporting liquor bottles that were filled in a den in Dhantoli area. The vehicle was intercepted by a night patrol team in front of office of Balbharti near Dhantoli Garden on December 16. The vehicle was loaded with liquor cartons many having well-known brands. Subsequently, Dhantoli cops had arrested two brothers in aftermath of unearthing of a liquor unit where local liquor was repackaged in bottles of branded companies and sold in market.