Many make fortunes from the nail biting finish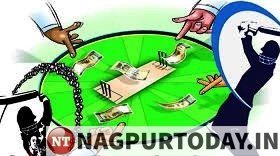 Nagpur: Cricket is game full of uncertainties. A single ball can play crucial role when it comes to decide the outcome. The same was evident during the final match of the Indian Premiere League (IPL) on Sunday night. Any other team might have thrown in the towel after scoring 149 against Chennai Super Kings in a finale however, Mumbai Indians refused to give up. Though the surprising win brought IPL title to MI for the fourth time, the bookies betting on the game ended up losing crores of rupees in a rollercoaster match.
Except for few, the 12th edition of IPL comprised many jaw dropping matches. MI elected to bat first after winning the toss in the final match and ended up scoring 149 at the loss of 8 wickets in 20 overs. However, the betting opened for MI at 80 paisa in Gondia. Which later fell drastically as the match progressed.
Bookies anticipated 150 target easily achievable for CSK
Owing to destructive batting line-up, bookies anticipated that to chasing 150 runs would be cakewalk for the CSK. For the first four overs, CSK's score was 32 runs for no loss. However, by the time Dhoni-led men reached 56 runs, it lost two wickets. Despite having world's greatest fielders in the bag, MI on Sunday failed drastically in the outfield, which shifted momentum towards CSK following a great knock by Shane Watson.
CSKs rate was 30 paisa during the death overs
Soon as Watson smashed Kunal Pandya for three sixes, everyone thought it was over. CSK required 9 runs in the last over and with the Aussie batting at 76; no one thought the MI would pull out a miracle. But after hitting first ball for boundary, Watson got run out on the next delivery. CSKs rate was 25 paisa when Dhoni's gang required 5 runs out of 3 balls to clinch the IPL trophy. When CSK needed a couple to win on a single delivery the rate went up at 60-70 in favour of Chennai. However, experienced pacer Lasit Malinga managed to draw the line between CSK and winning title.
Fancy deals brought tremendous loss
Who will win the toss? How much run will be scored in first innings? How many wickets will be lost? How many boundaries will be hit etc deals i.e. commonly known as fancy deals duped bookies and common people involved betting worth crore.
Goons to extract money
A month and half long IPL, comprised 60 matches had brought blooming chance of gambling for cricket lovers in Gondia based. Many turned their luck by winning lakh of rupees, while many others lost crores. However, to get money won from betting is not an easy task. Often goons are entrusted with the task to get the money from those who have betted and lost paying commission in the range of 20-25 per cent to the muscle men. As a result, the complaints of extortion calls are also on the rise.
By Ravi Arya