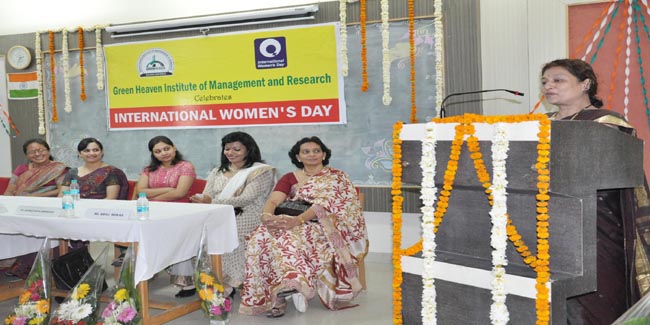 Nagpur News: Green Heaven Institute of Management and Research (formerly known as Orange City Institute of Higher Education) Nagpur, celebrated International Women`s day on 8th March, 2013 with great fervour. Prominent women achievers  including mountaineer Mrs. Bimla Negi Deoskar, Asst Commissioner (IT)Miss Kranti Khobragade –IRS and International Handball player Dr Lovneet Kaur Randhawa  were honoured on this occasion.  In her address, Mrs Bimla Negi Deoskar urged the girl students to be mentally and physically strong to take up the challenges.  Dr Lovneet Kaur Randhawa urged the male students to respect and support females in all their endeavours.  Miss Kranti Khobragade  advised the students to be disciplined and dedicated in order to be successful.
Mr Anil Sharma, secretary of Jai Durga Bahu-uddheshiya Jankalyan Sanstha and Dr Raju Ganiesh Sunder, Director of Green Heaven Institute of Management and Research felicited the three women achievers.  Dr Vinaya Ransingh, Principal of Green Heaven College of Education summarised the session and enthralled the audience with her analogy of bicycle and its two wheels.  Also present were Mrs Kavita Sharma, President of Jai Durga Bahu-Uddeshiya Jankalyan Sanstha and Mrs Aboli Bidkar, Principal of Green Heaven Kids.
Prof. Makrand Joshi compered the program and also proposed the vote of thanks.   Prof. Avinash Bhowate, Prof. Arvind Khadse, Dr Pramod Thakur, Prof. Anup Suchak and Dr Sudhir Pode  took special efforts for the success of the programme.