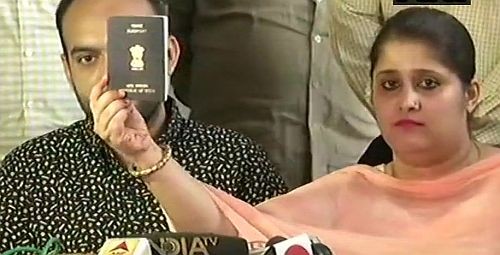 Lucknow: The interfaith couple who was harassed by a passport in officer in Lucknow and told to change their religion to Hinduism and take 'pheras' have been issued a passport.
The Regional Passport Officer, Lucknow, told ANI, "Their passports have been issued. A show cause notice has been issued to the official who was at fault, action will also be taken. We regret the incident and will ensure it is not repeated.
Reports say that the passport officer has been transferred.
The woman, Tanvi Seth, alleged she was harassed by an officer at Lucknow Passport Office as she was married to a Muslim and had not changed her name. She tweeted to Sushma Swaraj seeking help, and said, "It was a humiliating experience, the officer was very loud & made attacking hand gestures."
The woman, who is a Hindu, said, 'We hope it doesn't happen to anyone else. In 11 years of marriage we never faced this. Later officials apologized & we got our passports."
In a series of tweets directed at External Affairs Minister Sushma Swaraj, Seth, who married Mohammad Anas Siddiqui, 2007, described how she and her husband were allegedly shamed by a passport officer named Vikas Mishra.
On the day of their appointment, the couple cleared the first two stages of the interview at counters A and B, but the problem started at counter C where one has to interact with an official.