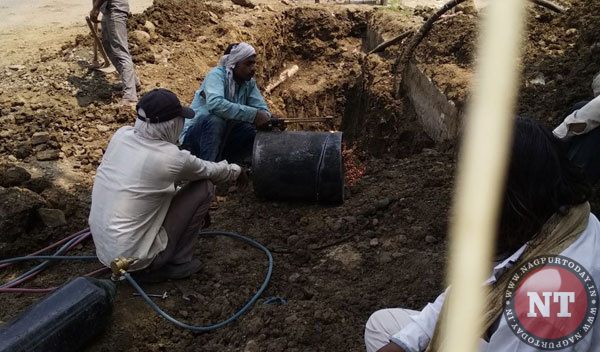 Nagpur Improvement Trust (NIT) has planned an interconnection of of 800mm dia. Pench-IV Feeder Line with 400mm dia. Inlet Pipe Line to Nara NIT Proposed ESR on June 26, 2018.
This interconnection work will require almost 15-hours of shutdown which will began at 11 am on June 26, 2018 affecting water supply of Aasi Nagar (Nara Existing ESR & Nari/Jaripatka zone)
Water Supply to Nara Existing ESR, Nari ESR and Jaripatka ESR will completely hamper on 26.06.2018 as well morning supply on 27.06.2018 shall be with less flow & pressure if shutdown completes within specified time. Also, there will be minor impact on supply from Indora Direct Tapping and from Bezanbagh ESR with less flow.
Area to remain affected are:
Nara Existing ESR –Nirmal society,Aradhna colony,Shambhu nagar,Shivgiri layout,Noori colony,Tavakkal society,Arya nagar,om nagar,nara gaon,welcome society,Devi nagar,preety society.
Nari & Jaripatka ESR—Bhim Sq.,Hudco colony,Nagarjuna colony,Kasturbha nagar,Kukreja nagar,Martin nagar,vishvas nagar,khushi nagar,LIG colony,MIG colony,Sugat nagar,Kabir nagar,Kapil nagar,kamgar nagar,ramai nagar,dixit nagar,Sanyal nagar,chaitanya nagar,Sahyog nagar,Manav nagar,Shende nagar,Rajgruh nagar,Lahanuji Nagar.
Nagpur Municipal Corporation and Orange City Water have planned leakage repairing work at Bharatwadi ESR on June 25. The 12 hrs shutdown will start from 10.00 AM to 10.00 PM on 25.06.2018 (Monday) for leakage repairing work.
Following areas will be affected during shutdown:-Wardhaman nagar, east wardhaman nagar, Deshpande layout, wathoda basti, sangharsh nagar, trimurti nagar, prajapati nagar, whole hiwari nagar parisar, padole nagar, panther nagar, EWS colony, LIG colony, MIG colony, sonba nagar.
The inconvenience caused in water supply due to such maintenance work is highly regretted.