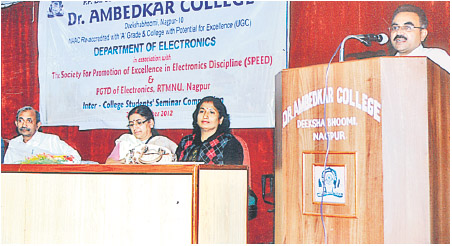 Nagpur News : The department of Electronics of Dr Ambedkar College, Deekshabhoomi in association with PGTD of Electronics, RTM Nagpur University and Society for promotion of Excellence in Electronics Discipline (SPEED) organised an intercollegiate students seminar competition for the students of BSc, Part I, II and III.
Principal Dr KM Reddy presided over the function. She boosted the morale of the students and said "Events like this act as a platform to the students to express their views and talent. HOD of Electronics Dr S J Sharma explained about SPEED and career development programmes. Chairman of the Electronics Board Dr C V Dhuley motivated the students in doing collective productive work and go deep into Electronics.
HOD of Electronics Prof V S Pawar briefed the students about the complete event. Students spoke on various topics related to their syllabus. Sarnandu Datta of BSc I of Dr Ambedkar College won the first prize from B Sc Part II. Piyush Udapurkar of BSc II of JB Science College, Wardha also won the first prize from BSc Part II. Harsh Sontakke, a student of BSc Final Year of J B Science College, Wardha also won the first prize in BSc Final category.
Prof N V Shivarkar coordinated the programme. Ashish Sharma compered the programme, whereas Prof Anup Bhatt gave the vote of thanks. A large number of students from different colleges all over Vidarbha participated in the event.