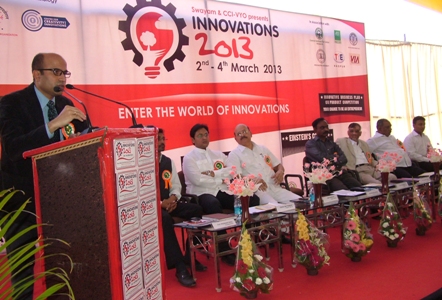 Nagpur News:
International Symposium on socio-economic transformation envisioned through technology and so 'Innovations-2013' is underway at Bishop Cotton School ground from March 2nd till March 4th. The event is organized by Centre for Creativity and Innovations (CCI) and Swayam Organization to provide a platform for innovative minds to showcase their innovations and business ideas to venturing investors and companies.
Young geniuses from more than 56 engineering colleges from all over the country are     participating in this exhibition. Mindboggling tech creations, research and solutions from home appliances to agriculture to power transmissions and number of other technological wonders by these aspiring entrepreneurs are at display in the event.
While Speaking with Nagpur Today, Vishal Muttemwar, Convener of the event said, "Common people have come up with such brilliant thoughts and solutions; we want to encourage and give them a platform for their research. Our intention is to convert projects into products for these aspiring future entrepreneurs. This Symposium is to celebrate the spirit of innovation", he added.
CEO of the event Prof. Prashant Kadu talking to Nagpur Today said, "Innovations should be the mass movement for nation building."
Nagpur Today spoke to the participants and took an insight into what inventions they had to offer.
Students of KDK college, Electronics branch, Saurabh, Sudeep, Ashish, Rahul ,Priti and Monika displaying their Project model 'Inspection Transmission Line using a Robot'.  Explaining their invention, they said "In power transmission lines, patrolling for faults and damages are done manually. We have developed a robot that can be sent to long distances transmission lines to detect faults. A camera is also installed in it by which a visual message can be sent to the base station by which faults can be detected at a very early stage and it is also less time consuming."
Mudhukarrao Pandav Engineering College, Mechanical Engineering branch students, Jayendra, Kiran , Sainath and Tushar have developed and designed an 'Automated Tricycle' for physically challenged people which runs on a battery charger for about 60 kilometers. They said, "We are participating for the first time in such an event and the response and experience is amazing."
Anand Kamble, Swapnil Chinchodkar and Jeevan of Shree Datta Meghe College have designed a 'Staircase Trolley' which can be very useful in malls, construction purposes as well as for domestic purposes.
Shankar Rao Dhawad, Polytechnic student in Nagpur presented a 'Wireless Floor Cleaning Machine' which can be used in industries or homes for cleaning floor. "This machine is wireless", informed its inventors Rohit Wankhede, Ishant Tembhurne,
Pranit Thakre, Sajar Bhaisare, Sajal Nandagaveli and Ashish Mendhe of Tulsiram Gaikwad Engineering College displayed 'Weight Lifting Robot' which can be used in industries for lifting heavy weighed machines. "It can work without micro-controller", they added.
Also Tulsiramji Gaikwad-Patil College students Komal Wanjari, Priya Motghare, Saroj Manthanwar and Ankita Ghate designed 'Auto Image Grabbing and Virtual Drawing Machine'. It functions using webcam to capture the image which is drawn with the help of laser light. Here, it can use different colors without touching any mouse or keyboard.
Bapurao Deshmukh College, Sewagram, Wardha student Samiksha S Joge presented 'Heart Attack Detection System' using GSM function. It mainly consists of heart beat sensor circuit with IR sensor, temperature circuit, LCD and GSM module. Whenever there is a possibility of a heart attack occurring, a message will be sent to the prescribed doctor so that the life of the patient can be saved.
Smt. Radhikatai Pandav College, students Harshal Kshirsagar, Samir Bhise, Sanket Shahir, Pawan Jangid designed  'Fabrication of  Push Type Spraying Machine'. It has a multi-purpose use for spraying both in rural and urban areas and it can be used to maintain fertility of soil (i.e. avoid tilting of soil to maintain fertility).
Govindrao Wanjari College students Pritam Shrikhand, Rakesh Shakhbidaran designed CC2500 based electrical appliance control using AVR micro-controller; it can be used for industrial purpose.
Dharampeth Polytechnic students Mittal Ramani, Heena Sheikh, Vrushali Joshi and Kavita Thakre designed 'Road-Side Symbol' using ADHOC Network. The students informed, "The main function of the system is to make driver know about upcoming symbols. Beneficiaries are visually impaired people; it can also be used during heavy rains in a foggy weather."
Shri. Sai Polytechnic, Chandrapur students Akshay D Jirate, Juned Baig, Akash Jurghare and Tanveer Shaikh designed 'Gesture Controlled Robot'. It works on gestures of hands which are captured by a web cam and processed using MATLAB. It can used and implemented for various innovative techniques such as humanoid bats.
The event is of four days and the program scheduled on 23rd is called 'Metro Vision' and on 24th is 'Innovative Business Plan' where venture capitalists will be seeing the project presentations.