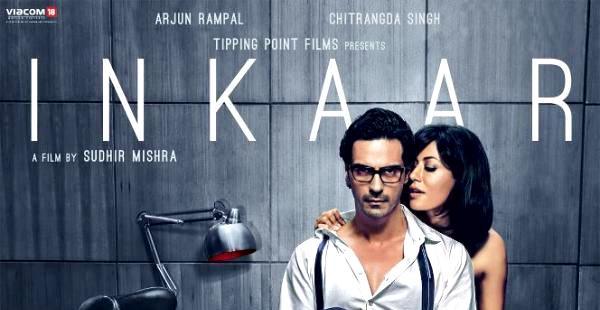 Director:  Sudhir Mishra
Producer : Prakash Jha
Star Cast: Arjun Rampal, Chitrangada Singh, Deepti Naval, Kanwaljeet
Music Director: Shantanu Moitra
Lyricist: Swanand Kirkire 
Singers: Shantunu Moitra, Swanand Kirkire, K. Mohan, Suraj Jagan and Monali Thakur
Genre: Drama
Duration: 2 hours 10 minutes
Rahul Varma (Arjun Rampal) is the CEO of an advertising agency, who is accused of sexual harassment by his colleague Maya Luthra (Chitrangada Singh).Maya Luthra (Chitrangada Singh) is a small town girl who wants to make it big in life. Rahul's hard work and the values inherited by his father has made him what he is today.  Rahul meets Maya at an advertisement festival and offers her a job. Maya proves herself brilliant nad getsthe post of National Creative Head soon. The story is later based on a Thiland business trip, where Maya slaps a sexual harassment case onto him, to adjudge which social worker Mrs. Kamdar (Naval) arrives.
Inkaar has a good story that holds you till the end.Sexual harassment in the workplace isn't the kind of premise that Hindi cinema tackles every other day. Rampal is too bland and Chitrangada too self-absorbed to come across as two severely harried pros on a soul-sapping collision course. Neither conveys the enormous nervous tension that is bound to be inevitable when two aggressive combatants are locked in a life-altering personal clash.
The ambiguity of the details that emerge in the course of the interrogation obviates the possibility of any sort of pat judgement. The film leaves the audience wondering until moments before the climax. And then what happens is a complete letdown.
From a film like Inkaar, one would have expected a drastic denouement – a shock ending with no sanctimonious caveats attached. Sadly, it backs off when it matters the most and opts for a rather tame, contrived and confusing, if not downright regressive, closure.
So, should you say no to Inkaar? The answer is neither yes nor no. May be would probably be more in order.