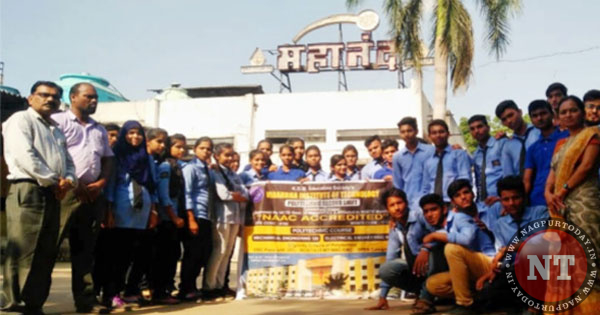 Nagpur: One of the great experiences of any engineering degree is an industrial visit, which has been a common practice in engineering colleges all over the world. The Vidarbha Institute of Technology had recently organized an industrial visit for students of Polytechnic Electrical & Mechanical Engineering branch in collaboration with Mahananda Milk Dairy. Around 35 students of final year along with faculty members had participated in this program.
This interaction gave the students an exposure to current work practices as opposed to possibly theoretical knowledge being taught at college Dr.Sanjay S Uttarwar Principal said "Every year Industrial visits are arranged in VIT for the students with an objective of providing them functional opportunity in different sectors which also helps to combine theoretical knowledge with industrial knowledge.
The event was coordinated by Prof.Bharat Ambade, Prof.Kiran Mathure and Prof.Pankaj Patil of Mechanical Department with a great support and supervision of Principal Dr.Sanjay S Uttarwar.
Jitesh N. Maheshwari (Chairman, VIT), said, "Industrial visits provide an excellent opportunity for the students to interact with industries and know more about industrial environment". Dr. Pooja Maheshwari (Secretary, VIT) along with Dr. G.S. Natrajan (Director, VIT) and Dr. Sanjay S Uttarwar also appreciate the work of organizing committee.