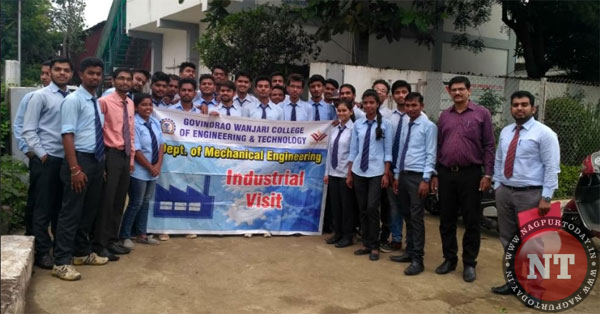 Nagpur: The Department of Mechanical Engineering of Govindrao Wanjari College of Engineering & Technology organized an industrial visit recently at Neema Forge Press Pvt.Ltd. Hingna MIDC, Nagpur.
The unit Head Er. Amol Singh Gour gave a brief introduction about the industry and later guided the students at various sections of the plant. The students got the industrial exposure to learn the various machines and processes. Prof. Nitesh Chahande, Head of Mechanical Department, encouraged the students to attend such industrial visits. Prof. R.M. Dahekar and Prof. A.L. Suradkar accompanied the students. Prof. V.S. Nikam, Prof. S.B. Gaikwad and Prof. D.K. Parve also appreciated the students for their efforts.
Adv. Abhijit Wanjari, Secretary, Amar Seva Mandal and Dr. Hemant Sonare, Director of Wanjari group of institutions, congratulated the staff for their initiative.