Induction Programme for First Year students conducted at PIET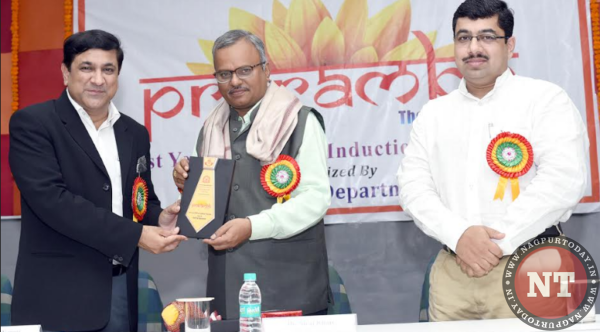 Nagpur: Priyadarshini Institute of Engineering and Technology organised Induction programme 'PRARAMBH' for the first year students of 2018-19 session. Dr. Neeraj Khaty, Director of Board of Examination and Evaluation and Registrar (Additional Charge) RTM Nagpur University was the Chief Guest of the function.
Dr. Khaty congratulated the students for being the part of Priyadarshini Institute of Engineering and Technology which is considered amongst the top five engineering colleges of Nagpur University. Shri Abhijeet Deshmukh, Director of LTJSS presided over the function. He appealed the students to scrupulously take part in all the activities organized in the institute for their overall development.
Principal of institute Dr. Vivek Nanoti urged the parents to give their whole-hearted cooperation to the institute so as to make their wards ideal students, ideal employee or employer and ultimately ideal citizen too. Addressing the students, Dr. Nanoti told them to shed down their lethargy and be in learning mode for 24/7. Welcome address was delivered by First Year Coordinator Dr. Maithili Barahate who briefed the gathering about the various activities conducted throughout the session.
She also informed the gathering about the unique practices followed in the institute for making the students globally competent. On this occasion meritorious students of the institute were felicitated at the hands of Dr. Neeraj Khaty and Shri Abhijeet Deshmukh. Senior students of the institute Mr. Aakash Soni and Ms. Anushka Pranjale spoke about their fruitful year they spent in the institute last year which helped them to become responsible and versatile students.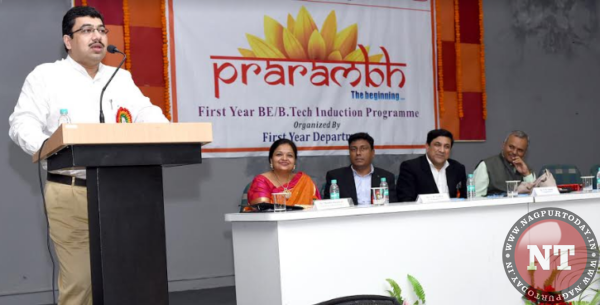 On the dais, Dr. G.M. Asutkar, Vice Principal and Dr. Sumita Rao, Dean Academics were also present. The occasion was graced by Dean R & D of LTJSS, Dr. J.P. Modak, Principal Dr. Gurjar of Priyadarshini institute of Architecture and Design Studies, Dr. Rozina Rana, Dr. Sadanand Deshpande, Dr. Rakesh Himte and Dr. Sumita Rao. Heads of department of institute, First Year Co-coordinators Dr. Aditi Pandey, Dr. Aparna Bhake and faculty members were prominently present on this occasion.
Vote of thanks was proposed by First Year Co-coordinator Dr. Aditi Pandey. Dr. Mugdha Jagdale conducted the proceedings. The programme was attended by a large number of students and parents. First Year staff members, not teaching staff and volunteer students worked hard for the success of the programme.