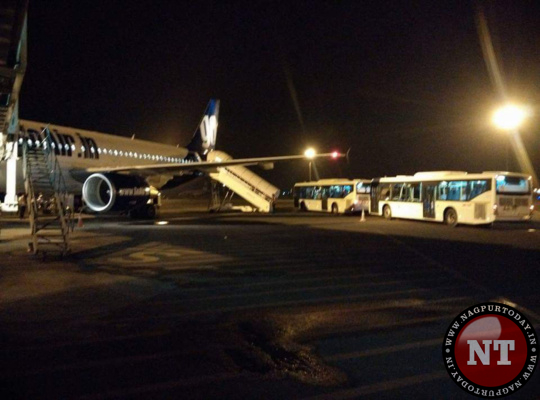 Nagpur: The pilot of an IndiGo flight alleged that a light beam was flashed at the aircraft while it was landing at the Nagpur airport on Sunday. The local police are investigating the incident that took place at 8pm.
Airport officials said the light beam could be from an event in the vicinity of the airport.
Aviation experts call such incidents safety hazard, as flashing of light at aircraft causes monetary blindness in pilots.
IndiGo flight 6E 436 (Indore- Nagpur- Bengaluru) was on the approach path of the runway when a beam of light was flashed at it for a few seconds. The pilot reported the matter to the airport officials after landing.
An airport official said while reporting the incident, the pilot informed of somebody focusing a strong dazzling light at the cockpit from a location towards the right side of the runway.
Official said such an incident at the airport is rare and has been reported to the Airports Authority of India (AAI).
An AAI official said, "The complaint has been taken seriously, as it is a safety issue. The light seems to be flashed from the outskirts and so should be easy to trace down the place where the event was held." 
Experts say high intensity lights cause momentary blindness in pilots. They added even the smallest obstruction in a flight's path can prove fatal. An aviation expert said, "Laser or light beams are dangerous, especially during night. Pilots lose concentration owing to which general monitoring of the instrument get affected. Laser lights also blinds the pilots momentarily, which is a safety concern for passengers." 
Recently, Ministry of civil aviation (MoCA) proposed to impose ban on sky lanterns within ten kilometre from the aerodrome reference point (ARP, parameter for giving approvals for all buildings and other construction activities in and around the airports ) as flying objects are a threat to the flight operations.