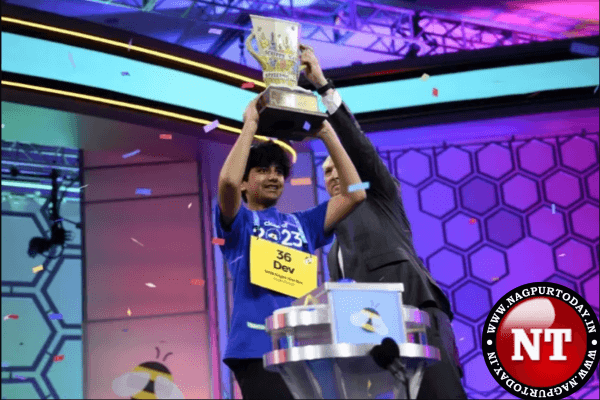 Dev Shah, a 14-year-old eighth-grader from Florida, who correctly spelled the word "psammophile" has won the 2023 Scripps National Spelling Bee, a prestigious contest where children of Indian origin have ruled the roost. Charlotte Walsh, also 14, from Arlington, Virginia, was the runner-up, having incorrectly spelled "daviely" as "daevilick".
When asked, Shah instantly identified the roots of his word, but asked for all the information just to be safe, while smiling slightly in a way that suggested he was pretty sure he had it, the New York Times newspaper reported.
He correctly spelled the word to win the 95th national bee and the USD 50,000 prize on Thursday. "It's surreal," Shah said onstage after the confetti fell on his head and he lifted the trophy high above.
"I don't know if it's settled in. My legs are still shaking," he said at the competition in National Harbor, Maryland. "I made a lot of sacrifices these last three months and I'm glad I made them," Shah said. "I'm glad to now get back what I sacrificed."
"Psammo meaning sand, Greek?" he asked. "Phile, meaning love, Greek?"
About Dev Shah
Dev Shah wins more than $50,000 in cash and prizes and is the 22nd champion in the past 24 years with South Asian heritage.
His father, Deval, a software engineer, immigrated to the United States from India 29 years ago to get his master's degree in electrical engineering.
He has since added an MBA from the University of Florida. Dev's older brother, Neil, is a rising junior at Yale.
Deval said his son showed an incredible recall with words starting at age 3, and Dev spent many years in participating in academic competitions staged by the North South Foundation, a nonprofit that provides scholarships to children in India.
Shah cut back on his extracurricular activities to dedicate more time to the dictionary. Some days he would not even go to school, since exams were over.
This was Shah's third attempt. His previous two attempts were in 2019 and 2021.
Last year, Shah stumbled in regionals and didn't make it to the national competition. In 2021, a virtual competition, he was bounced in the third round of preliminaries. The pandemic cancelled the 2020 Bee and in 2019, Shah bowed out in the quarterfinals.
At 14, this was his last chance. And he responded by training around the clock, including two hours per week with Remer.
Eleven students made the finals after 11 million people entered spelling competitions, according to the organisers.
Other words that Shah correctly spelled during the competition include: bathypitotmeter, tolsester, rommack, aegagrus, schistorrhachis, poliorcetics, Perioeci, exhortation, cocomat and ardoise.
Scott Remer, a former speller who coached six of the finalists onstage Thursday, said he began working with Shah about three years ago, the USA Today newspaper reported. "One of the things that really impresses me about Dev is his perseverance and his commitment," Remer said. "He is extraordinarily mature, self-motivated." "It's hard as a (middle schooler) to have that delayed gratification," Remer said.
Eleven students made the finals after 11 million people entered spelling competitions throughout the world.
In 2022, Harini Logan, a 14-year-old Indian-American eighth-grader from Texas, won the contest, beating Vikram Raju, her compatriot.