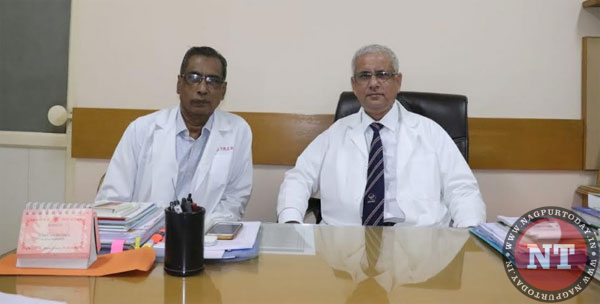 Nagpur: The risk of Cancer is seemingly increasing day by day as more and more people are prone to different types of cancer in the country though the reasons vary in every case which appears before the doctors. Dr Subhrajit Dasgupta Director along with Dr B.K. Sharma Joint Director of Rashtrasant Tukdoji Regional Cancer Hospital and Research Centre in a meeting with Nagpur Today informed about the various causes and precautions of increase in cancer in the country.
Q. In last 2 years how many people suffered from Breast cancer and other cancers?
– Breast Cancer is one of the major and the most common issue which has been increased at an alarming rate. According to Hospital based cancer registry in 2016, 4,808 patients visited hospital in which 14% of women are diagnosed with breast cancer while every year around 500 cases are being registered with the problem of oral cancer. There is a high rise in number of women which are prone to breast cancer in Urban areas as compared to rural areas.
The reason for the rise of breast cancer is due to change in life style, food habitat, pollution. Similarly there has been a gradual increase in the age group of women which are suffering from breast cancer. An increase of 4% of women in the age group of 20-30 year suffers from breast cancer. The risk of breast cancer is more to the women of the age group of 40-50 year.
Q. In last 2 years how many people have died in the hospital due to cancer?
– In India the death rate due to cancer is more than in other countries as 50% of people come for the treatment in late stages which is Stage 3 and 4. Whereas in Western countries like USA, UK women are more prone to breast cancer on an average 75 woman out of 1 lakh are diagnosed with the symptoms whereas in India the rate is 25 women per 1 lakh but the death rate is higher in India due to lack of awareness, and less screening programs in rural areas.
On an average we witness 10 deaths per month while going through treatment but the death which occurs at home is four times more.
The 5 year survival rate in India after treatment is 60% whereas in western countries the rate of survival is 90% and the only reason behind such vast difference is beacuse of the stages as people are not aware of the causes and symptoms they themselves are not able to figure out the problem faced by them and as a result they are diagnosed late when there are less chance of survival.
Q. How can one identify the symptoms?
– The most common symptoms which can be checked in breast cancer is a small lump or nodule which occur in 90% of the cases, pain and bleeding from the nipple areas swelling in neck area are also some of the common symptoms which can indicate towards breast cancer.
Q. Can one prevent them from cancer?
– Cancer is a curable disease but it cannot be prevented and in many cases the cause is unknown. In 30% of the cases the disease is genetically transferred from the parents to the offspring's and in remaining 70% the cause is unknown, although safety measure can be taken by following a healthy habitat.
Q. What must be done to spread the awareness for the disease?
-As a priority the awareness programs must be run by private and government aided organizations in order to spread the message to the masses proper screening programs for all age grouped women must be conducted from time to time. Women living in rural areas must be educated on the rising risk of cancer.
Q. How many people got free treatment from the Hospital?
– Rashtrasant Tukdoji Regional Cancer Hospital and Research Centre is the oldest cancer treatment center of the region from past 45 years, here every patients who falls on the below poverty line category gets free of cost treatment. Every year we treat 40,000 patients. The centre is 2nd Regional Cancer Centre (RCC) after Tata memorial hospital in Mumbai. Here we have all the government aided schemes for patients like indigent fund of charity commissioner, Chief Minister Fund, Prime Minister Fund and many more which helps the people in getting free of cost treatments.

By Abhishek tiwari