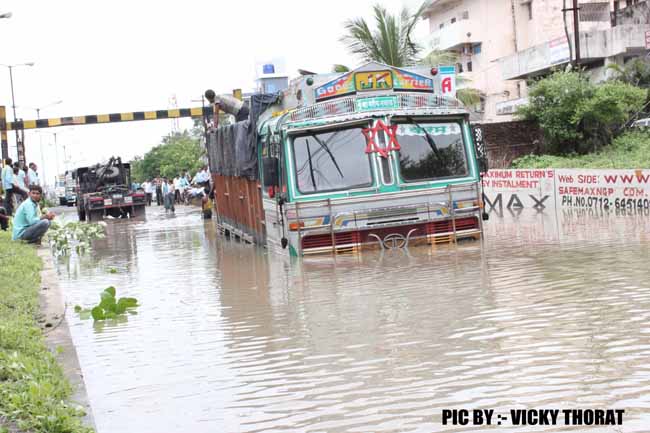 Nagpur News: It was a perfect rainy Sunday prompting many in Nagpur to hold back in the confines of their homes and enjoy cloudy day over a sip of hot drink and gorging on their favorite indulgence. But little did they know that they would wake up to see the pool of water around their houses the next morning. Most of the households in Nagpur were submerged as a result of incessant rains that triggered since Sunday morning and continued till early Monday morning.
Morning schedule of various schools was cancelled while most of the schools declared holiday due to heavy water logging in its premises.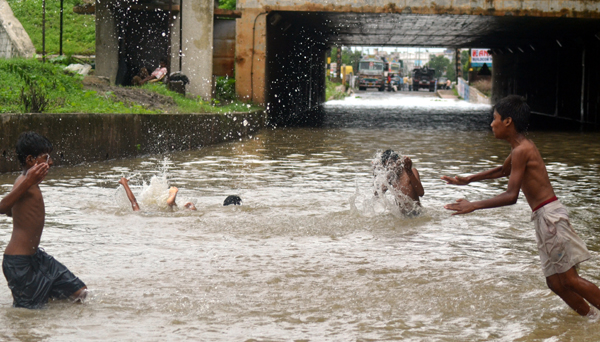 Rains reportedly picked up momentum by 3 am on Monday morning, as a result of which, various low lying colonies in Hudkeshwar, Mahal, Swawalambi Nagar, Narendra Nagar and Zaripatka saw knee deep water logged around households. Outskirts like Besa and Beltarodi saw the worse of it. The vehicles parked in various areas were seen submerged while large numbers of office goers struggled their way through the water clogged streets in the city.
While it was the problem for some, few took it as an opportunity to have big splash. The pool formed due to water jamming near Narendra Nagar overbridge prompted nearby children to take a dive into it. A truck was reportedly submerged up to half its body near the water filled passage below the bridge.
NMC pumps into action, 51 rescued in Hudkeshwar
NMC officials had the tough time in flushing out the water from cluttered areas as neither it has the required number of people nor any preparedness to tame the tide of such problems. People in large number of areas waited helplessly for the local body workers to clear the water whereas it could serve only few localities and that too with insufficient resources.
NMC Commissioner Shyam Wardhane told Nagpur Today that he had visited various affected areas in the city including Manewada, Manish Nagar, Besa and Beltarodi. He informed that 51 persons were rescued through boats from Hudkeshwar where they were stranded due to heavy water logging.
Households blocking water course aggravated problem
On being asked about the slow pace of rescue works and shoddy preparedness, Wardhane clarified that major proportion of the water logging problem was due the households choking the course of water. "I have ordered my officers to demolish such erections or walls that are hampering smooth drainage of water," he said.