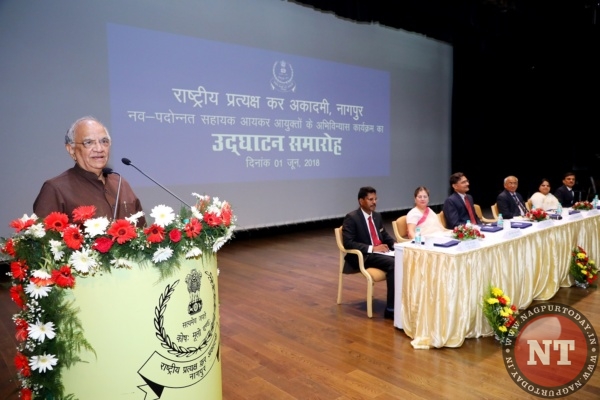 Nagpur: Inauguration ceremony of Orientation Programme for the newly promoted ACsIT-"Uttarayan 2018" was held at the National Academy of Direct Taxes on 1st June, 2018. T. S. Krishnamurthy, IRS (Retd.) and former Chief Election Commissioner of India, graced the occasion as the Chief Guest. Faculty Members of NADT and Senior officers from the Income tax department and other departments in Nagpur were also present on the occasion.
The ceremony began at 11.45 PM. In his welcome address, Dr. P S Puniha, Principal Director General (Training), NADT welcomed the participants of the Orientation Programme and encouraged them to adopt collaborative learning. V Roy Jose, Addl. Director & Course Director of the programme presented the batch profile. Ms. Nausheen J Ansari, Additional Director General (Training)-2, NADT, outlined the key features of the Orientation Progarmme. Dr. Rajeev Ranade, Additional Director General (Training)-1, NADT, administered the Oath of Allegiance to the participants of the Orientation Programme.
The National Academy of Direct Taxes, Nagpur is the apex training institute in the country for the Officers of Income Tax Department. Officers newly promoted from ITOs to ACsIT undergo Orientation Training of eight weeks at NADT before being posted to field as Assistant Commissioners/Assistant Directors of Income Tax to administer the Income Tax Act.


During the eight weeks, these officers will be imparted inputs on all aspects of tax administration. Apart from training them in discharging their core functions of direct taxes collection and tackling tax evasion, they would also be provided with inputs to tackle economic crimes like money laundering, embezzlement, frauds and various other financial scams. During the training sufficient emphasis will also be laid on the physical fitness of the officer trainees.
In his address, T. S. Krishnamurthy, the Chief Guest emphasized that the Officers should perform their duty without favour and fear. He also stated that honesty and integrity are two pillars of the Character of a Public Servant. Nimesh Bhatt, Associate Course Coordinator proposed the Vote of thanks.