Visitors face hardships as to NMC's gardens lack the basic facilities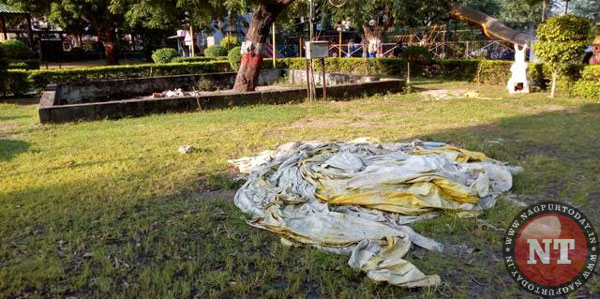 Nagpur: Have you read or heard a garden is bereft of drinking water or toilet facility to frequent visitors. It is true. That too in Nagpur which is listed to be a Smart City soon!
The civic body in Nagpur is leaving visitors to not one but 50 of its gardens in dilemma. The NMC, in spite of spending funds between Rs 1 crore and Rs 1.50 crore annually, has failed to ensure citizens get basic amenities at its 50 gardens. These gardens have been found lacking public toilets and drinking water facilities.
The startling was revealed in a reply to a poser put up by RTI activist Abhay Kolarkar under Right to Information Act by the Garden Department. Public toilets and drinking water facilities are primary requirements for any garden in the city. However, the public toilets available in the gardens are not hygienic, said a regular visitor to one of the gardens. Further, toilets are emitting foul smell polluting fresh air of the garden and disturb the otherwise pleasant atmosphere. The department has miserably failed to spend funds provided for the maintenance.
In the year 2015-2016, the administration had sanctioned Rs 1.50 crore but only Rs 1.45 crore had been spent while in the year 2016-2017, the administration sanctioned Rs 2 crore and it had spent only Rs 1.28 crore. The Garden Department received Rs 1.50 crore for 2016-2017 but it could spend only Rs 1.17 crore. This year, the department had spent Rs 64 lakh till July 2018. This shows the apathy of the Garden Department and its failure in maintaining the gardens. The Garden Department has deployed 91 security guards to provide security in the gardens.
Laxmi Nagar Zone has 10 gardens without having drinking water and toilet facilities while Dharampeth zone has only three gardens without having these basic amenities. Hanuman Nagar zone has four such gardens while Dhantoli zone has six gardens lacking basic amenities. Nehru Nagar zone covering outskirts of the city has five gardens without having facilities. Commercially important areas covered under Gandhibag zone has two gardens without having the vital facilities. Satranjipura and Lakadganj zones have three gardens each without basic facilities. Aashi Nagar and Mangalwari zones have 7 gardens each lacking the basic facilities.