Nagpur: The day was unique in its own way. The ever busy Commissioner of Police and equally busy journalists had rendezvous on a different note. The top boss of Nagpur Police Dr Bhushankumar Upadhyay on Tuesday organized "Diwali Milan" programme to mark the Festival of Lights and interacted with journalists. Extending his Diwali greetings to the scribes, the top cop outlined his plans and priorities in maintaining law and order and streamlining traffic in the city.
At the outset, the Police Commissioner appealed the citizens to strictly follow the Supreme Court directives on bursting of firecrackers. The apex court, in a recent ruling, had refused to impose a nationwide blanket ban on sale of firecrackers. The court said only 'green firecrackers' (which are less polluting) will be allowed to be sold. Supreme Court also imposed timing restrictions on burning firecrackers on Diwali and said people will be allowed to burst crackers between 8 pm and 10 pm.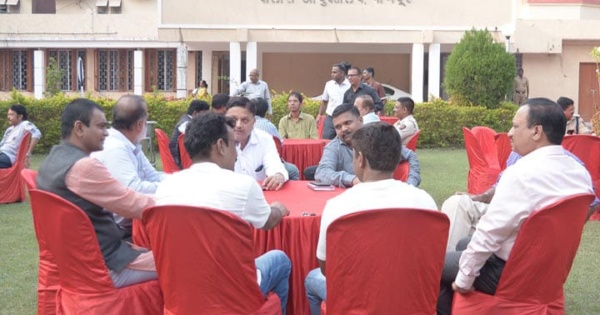 In the informal programme, the Dr Upadhyay sought information from the journalists about crime situation and held a wide-ranging discussion on traffic problem prevailing in the Second Capital. The top police boss stressed the need for following traffic rules, mandatory wearing of helmets for safety of two-wheeler riders, etc. "Efforts are being made to curb illegal activities without discrimination. No criminal will be spared of severe action. Police have acted from time to time and put hardcore criminals behind the bars," the Commissioner pointed out while discussing a wide-ranging issues pertaining to his department.
Dr Upadhyay, who took charge as Nagpur Commissioner of Police recently, cherished mouth-watering snacks in the company of the journalists.
Present on the occasion include Joint Commissioner of Police Ravindra Kadam, all Deputy Commissioners of five zones including Zone 1 DCP Masal, Zone 2 DCP Chinmay Pandit, Zone 3 DCP Rakesh Maknikar, Zone 4 DCP Nilesh Bharne and Zone 5 DCP Poddar. DCP (HQ) Shweta Khedkar was also present in the programme.