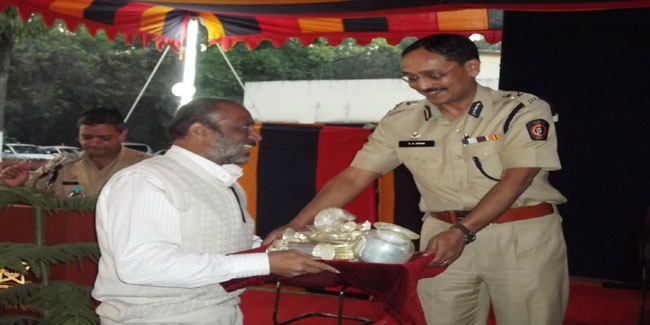 Nagpur News : Tuesday evening brought some relief to around 46 people after the city police department returned their stolen material among the recovered materials worth Rs 20 lakhs. The program was the first of its kind initiated by city police chief, K K Pathak.
The lucky ones include a senior citizen, Hyacinth Gregory, who got her ancestral valuables worth Rs 4 lakhs almost five years after her house was burgled of jewellery and materials worth Rs 15 lakhs. However, at the same time she was disappointed with the lengthy process of court and police station that makes her wait for five long years.
"I had lost all hopes but atleast got some. I am not so happy to get back the jewellery. The long wait has taken that happiness with it," she said. On December 22, 2007, Gregory's residence on Kamptee road at Sadar was burgled for three days while the family had been to Mumbai. She informed that to overcome from the worst burglary, they have to shift to other house in Sadar area.
Pathak told that their target was to return materials worth Rs 1.23 crore to the people. "But we are bound by the court's order," he said assuring that soon, he will arrange another similar programme to return the stolen materials to the victims.
The victims were given their stolen material at a function held at CP office laws in Civil lines on Tuesday evening. The programme was also mark as the end of 'The Raising Day' which was conducted at all police stations since last week.
A 19-year-old Aparna Itankar was also happy to get back her newly moped that was stolen a month ago from her Sindu Mahavidyalaya college in Pachpaoli. Her vehicle was stolen from the college parking.
Another fortunate one was Swati Ggharpure of Ambazari, was on the top of the world to get her stolen silver vessels worth Rs 3 lakhs.
Three cylinders, 15 vehicles including bikes and moped, gold and silver ornaments, one LCD and camera were recovered.
Among 46 people, 3- from Ambazari police station, 5 from Sitabuldi, 4 from Sonegaon, 1 from Sadar, 7 from Gittikhadan, 6 from Jaripatka, 4 from Pachpaoli, 2 from Lakadganj, 1 from Yashodhara Nagar, 3 from Ganeshpeth, 6 from Tehsil, 1 from Wadi and 3 from Ajni, were returned the recovered materials.