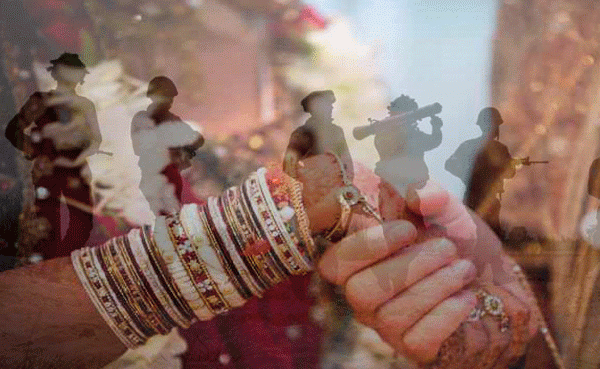 Nagpur: Gleaming with profession of honor and pride, every army soldier puts service towards nation over everything, even their own self. Two jawans from Nagpur have recently set a precedent in the history of army, by leaving their own wedding ceremonies to attend the call of duty during emergency.
Like many countries, in India too, leaves of soldiers are cancelled in the times of emergency. So recently when both the nation and Vidarbha region rocked with the deadly attacks, by terrorists and naxals respectively, these soldiers were compelled to leave their marriage and rushed to join their duties. Both the CRPF jawans are residents of Nagpur, whose marriages were fixed in the city itself. However after the gory terrorist attacks in Pulwama sector of Jammu and Kashmir and deadly naxal attacks in Gadchiroli recently, the leaves of all the jawans deployed there were cancelled. Due to the urgent call, both the jawans had to be on duty and hence could not get married.
In the first incident, one of the soldiers from Nagpur, who was posted in Pulwama, had reached his home in city to get married. In the meantime soldiers in Pulwama were attacked. All the leaves were cancelled due to this cowardly incident. So this young jawan was also called back even before he could tie the nuptial knot.
In another such incident, after the Naxalite attack in Gadchiroli few days ago, the constable, who was posted there, could not attend his marriage. 15 jawans were martyred in the attack. According to eyewitness present in the marriage, the procession reached the home of the jawan who could not make it to the event as he was deployed in Gadchiroli. After that the bride's father informed all the guests that the bridegroom was on duty and would be back by evening. He even insisted all the guests to have food. However the groom did not return in the evening too. None of the guests had food and all returned from the venue.
After this incident, the groom's father got heart attack. He was admitted to the hospital where his health is said to be fine now. On the second day, the bride's relatives went to Gadchiroli to check whether the bridegroom has really gone out for duty. On reaching there, they got to know that the groom was on duty.
… By Shubham Nagdeve