In Debut RS Speech, Amit Shah Hits Out at Congress; Says Only One Family Ruled Country For 55 Years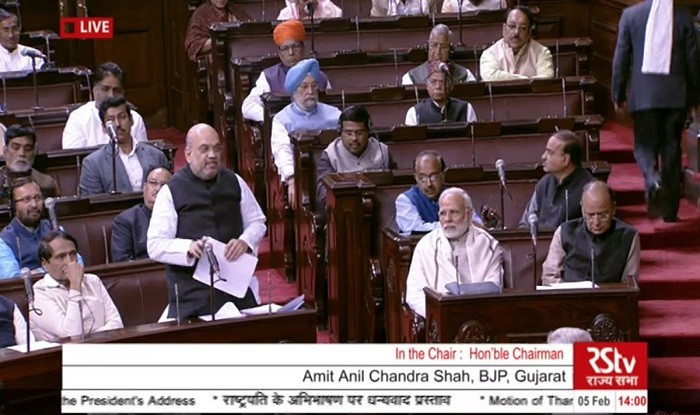 New Delhi: Delivering his first Rajya Sabha speech, the Bharatiya Janata Party president Amit Shah on Monday, February 5, trained his guns at the Congress while listing the achievements of the Modi government since coming to power in May 2014. Amit Shah described Narendra Modi as the only prime minister after Lal Bahadur Shastri who gave befitting reply to nation's enemies.
Speaking on Motion of Thanks to President's address, Amit Shah slammed the previous governments headed by the Congress for the country's poor economic growth and development. Cornering the Congress further, Shah said only one family ruled the country for 55 years since independence but over 60 per cent of people were deprived of having a bank account.
Amit Shah, who was elected to the Upper House of Parliament from his home state Gujarat, said that the Modi government provided stability to the country after 30 years of unstable rule. Both PM Narendra Modi and Finance Minister Arun Jaitley were present in the House during Shah's maiden speech.
"For the first time after independence, a non-Congress party was given mandate by the public and it was BJP government led by PM Modi. In spite of getting absolute majority, we formed government with NDA members," Amit Shah said, adding that the BJP government faced a daunting task of pulling India back from on track of development after years of misrule.
"Sarkaar ne jab kaam-kaaj sambhala, tab sarkaar ke paas virasat me kya tha? Jis prakaar ka gaddha tha, wo gaddha bharne mein hi sarkaar ka bahut saara samay gaya hai aur gaddha bharne ke baad in uplabhdhiyon ko ek alag najariye se dekhein," Amit Shah said in Rajya Sabha.