In 2019, we will form our government – a farmer's government, a people's government: Ashok Chavan

Government declared a drought but made no provisions for drought relief!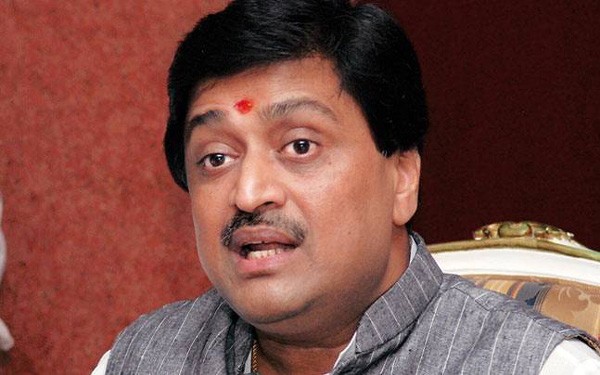 Mumbai: "In 2019, we will form our government – a farmer's government, a people's government," said Maharashtra Pradesh Congress Committee President Ashok Chavan at the Akhil Bharatiya Kisan Sabha's Kisan Hakk Parishad at Mumbai's Y. B. Chavan auditorium.
Chavan was speaking alongside NCP President Sharad Pawar, Leader of Opposition in the Vidhan Sabha Radhakrishna Vikhe Patil, NCP Maharashtra President Jayant Patil, CPI (M) leader Hannan Mollah, and other prominent leaders from the Congress, NCP, and CPI (M).
"You might question how the Congress and the NCP can speak alongside the CPI (M). But the people want us to come together," said Chavan while reiterating the importance of forming a Common Minimum Program in Maharashtra to create a united opposition against the BJP-Sena government in the state.
Claiming that the BJP formed a government with only 30% of the votes in 2014, Chavan said that the opposition would not let the other 70% of votes get divided in 2019.
"Across Maharashtra, the Opposition is speaking out against the Devendra Fadnavis-led BJP-Sena government. The Congress' Jan Sangharsh Yatra, the NCP's Halla Bol campaign and the CPI (M)'s Kisan Long March are all proof that this government is facing resistance from all sections of society," he said.
Hitting out at the government over its failure to provide drought relief despite repeated declarations of drought, Chavan said that the Chief Minister was engaging in wordplay as farmers across Maharashtra were suffering.
"For the first time in Maharashtra, the government has used words like 'drought-like' solution to trick the people of the state. Despite declaring a drought, they have made no provisions to provide drought relief," said Chavan.
He also criticised the government's flagship farm loan waiver, claiming that the party's Jan Sangharsh Yatra had travelled across rural areas but failed to find many who had benefited from the waiver. He added that the Chief Minister had failed to introduce any legislation to implement MSP across Maharashtra.
"The government has promised MSP for the past four years. The Chief Minister said that a law would be brought in place to ensure MSP across Maharashtra. Where is the law? MSP procurement centers have been inaugurated across the state – but they are either not functional or they are not buying crops from farmers at all," said Chavan.
Chavan also launched a scathing attack on Prime Minister Modi's flagship crop insurance scheme, which he claimed had only benefitted insurance companies.
"The Pradhan Mantri Fasal Beema Yojana is an absolute failure. Farmers paid thousands of crores to insurance companies – but each only received Rs. 1, Rs. 2, or Rs. 5 as compensation for spoilt crops. This scheme has only benefited private insurance companies," said Chavan.
Reaffirming the Congress' faith that a united opposition would take on the BJP and the Shiv Sena in 2019, Chavan said that efforts were on at the state and the central level to find common ground between parties.
"From unemployment to Adivasi rights, this government is great at making promises – but has failed to fulfill any of their promises," said Chavan.