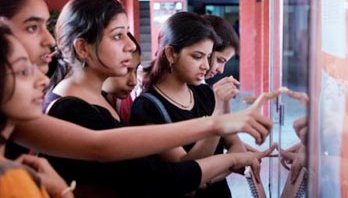 Nagpur News:
The Nagpur University's   implementation of semester pattern in 1st year of BE and up gradation of syllabus is showing positive results . The second semester results of BE this year has seen a good increase of about 17% in passing outs this time.
Last year BE first year's   result was about 35% it means more then 50 percent of the students failed. BE First semester's result this time has shown improvement with 47 percent  passing out . while , second semester results saw 52.44 passing percentage .      The students are feeling relieved with the increase in passing  percentage of results. The colleges are also happy with the good results .
About 8000 Engineering seats were vacant last year. Attraction towards engineering was coming down with the students and parents. But, this year situation has improved a little with 6000 seats remaining vacant, with increase of 2000 seats as compared to last year.
"The decision of making semester pattern in first year has reduced the tension of the students. Now they will not have to appear for more than 15 subjects   in first year. In   semester pattern   students have to appear for less number of subjects  which is advantageous for preparation of exams," said a BE student.
National power training institute (NPTI ) has performed outstanding in BE Second Semester Results with 90.32 passing percentage.Similarly, Saint Vincent Palloti college of engineering secured 83.93%. Umred college of Engineering had 81.78%, Priyadarshani college of engg & Architecture secured 78.04%, Rajiv Gandhi Engg college 77.85 % , Cummins college for womens  77%, KDK college 76 %, SB Jain 75% ,Raisoni womens college 74 % and KITS Ramtek secured 72 % passing result.