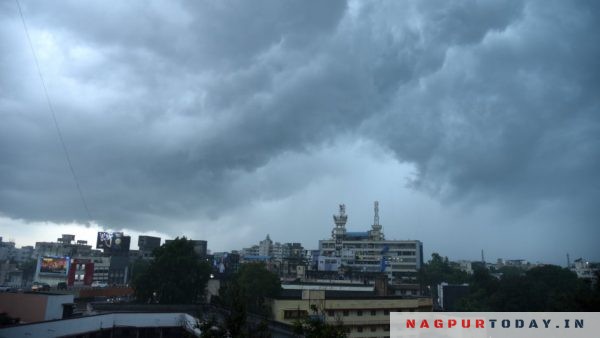 Nagpur: Cyclone Nivar made its presence felt to some extent in Nagpur with cloudy weather on Thursday. Indian Meteorological Department (IMD) has predicted light to moderate rain on November 26 and 27 in some parts of Vidarbha including Nagpur due to the effect of the cyclone.
Winter rains with thunderstorm and lightning are likely to be witnessed in Nagpur, Chandrapur, Gadchiroli and Yavatmal districts of Vidarbha till Friday.
"The effect of cyclone Nivar persisted in Vidarbha till Friday while it has weakened and converted into an upper air circulation over coastal Tamil Nadu and it is set to further weaken into a deep depression," said M L Sahu, Deputy Director General of Meteorology and Scientist F, Regional Meteorological Centre (RMC), Nagpur to The sources.
Nagpur received moderate rain some days ago due to western disturbances and again city is likely to get rain due to the cyclone. The weather department has predicted that the minimum temperature would reduce again after November 27. The minimums will remain between 12 and 13 degree Celsius in the end of the month. However, the minimum temperature will reduce further from the first week of December and likely to record in single digit thereafter.
The minimum temperature has also increased by 1.2 degrees in last 24 hours and settled on 14.5 degrees Celsius on Thursday. The maximum temperature remained the same with 30.0 degree Celsius. Gondia recorded the lowest minimum temperature in Vidarbha with 13.2 degree Celsius on Thursday. Amravati (13.3 degrees Celsius),Washim (13.8 degrees Celsius), Akola (15.8 degrees Celsius), Buldhana (15.8 degrees Celsius),Wardha (15.0 degrees Celsius) and Yavatmal (15.5 degrees Celsius) recorded the minimum temperature at higher side.
The night in Bramhapuri (17.2 degrees Celsius), Chandrapur (18.4 degrees Celsius) and Gadchiroli (18.4 degrees Celsius) was warm on Thursday. Most of the places in Vidarbha recorded the maximum temperature above 30 degrees Celsius while the day temperature in Buldhana (28.4 degree Celsius), Bramhapuri (29.7 degree Celsius) and Gadchiroli (26.4 degree Celsius) was recorded below 30 degrees Celsius