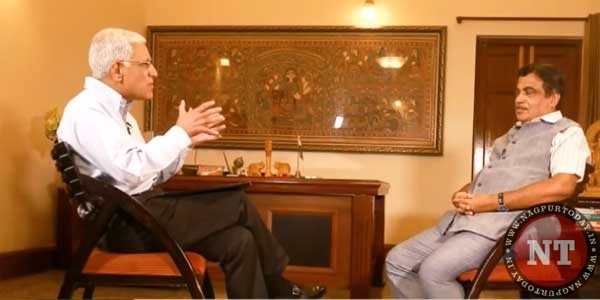 The Narendra Modi-led Bharatiya Janata Party (BJP) government has been in power at the Centre for over four years, and in just nine months' time, it will face the Lok Sabha elections. How does the government judge its own performance? What does it see as its successes, and admit to as its failures?
In an exclusive interview for The Quint, senior journalist Karan Thapar puts forward these important questions to one of Modi government's 'star performers' – Union Minister Nitin Gadkari.
The Minister for Road Transport & Highways, Shipping and Water Resources talks about a wide range of issues from the state of the economy to the mood of the nation, the Kashmir crisis, the prime minister's role in the cabinet, the much-anticipated 2019 elections, and his chances at being prime minister.
Have 'Acche Din' Arrived?
Looking back at the BJP's 'acche din' pitch before the 2014 Lok Sabha elections, Gadkari said that what was considered "good times" may vary from person to person. Giving examples of the government schemes that have benefited people, the union minister said that people's expectations are building.
The expectation of people is always increasing. But I feel that the most important thing for comparison is the track record of the past and present government performance, by which we can easily understand. I am giving you an example. The 10 crores of poor people are getting gas cylinders under the Segdi Ujwala Yojna. Is this not good for them? Only 3.5 crore bank accounts were there. Today, there are 31 crore bank accounts. They are operating bank accounts, getting loans. Is this not a good thing?
Does PM Modi Dominate Cabinet Colleagues?
Elaborating on his personal experiences, the Nagpur-born politician said that he has opposed the prime minister many times but has not faced any backlash for it. Gadkari added that Modi had "courage and listened to people."
PM Modi allows everyone to speak. Every minister speaks against the views of the Cabinet and the views expressed by the Parliament. But Modi ji has courage. He listens to everyone. Sometimes you feel that his approach is correct. Then you feel that this is also a point we have to think on.
When asked about the general impression that the prime minister dominates the Cabinet, Gadkari labelled them rumours, with "no proof, relevance or ground realities."
Is the Modi Govt's Economic Performance As Good As Manmohan Singh's?
Responding to Thapar's question on his government achieving almost the same or less than the UPA government led by Dr Manmohan Singh, Gadkari pointed to a few parameters on which India could perform better. He added that the expectation from his government in terms of industrial sector was more.
In the manufacturing sector, the industrial sector in particular, we have more expectation. We need to concentrate more on it. We need to increase our export. We have to have more foreign investment. But at the same time, in comparison with the rupee-dollar fluctuation, we have to increase the value of the rupee.
"Growing Population Increases Demand for Jobs"
Prime Minister Narendra Modi promised the creation of 10 million jobs every year, before he assumed office. However, over the last four years, the hunger for jobs has only increased.
While some government bodies like the NITI Aayog claim that jobs have been created, pink papers say otherwise. While Gadkari stressed that job creation was important for his government, he said that the growing population increased the demand for jobs.
The Union minister, however, defended the government's job creation, adding that the Opposition was playing politics.
Take it from me, there are some people, some leaders, some institutions, some parties that are permanent critics of the government. It is because of politics. I was also in Opposition. The benches are the same. When you go on to that bench, you have to spit the same language. If the Opposition party cooperates and gives thanks to the government, then media will indicate that this Opposition party is managed by the ruling party.
"Our Fight Is With Pakistan, Not Kashmiris"
When asked by Thapar if he will accept that Kashmir was one of the BJP government's most worrying problems, Gadkari said that their fight was against the Pakistanis and not Kashmiris.
He claimed that Pakistan was trying to start a proxy war with India by influencing the youngsters in the valley. He also reiterated that his own ministry has undertaken several infrastructural projects in the state to show the people that they were committed to the development of J&K.
This is not a fact. It is a proxy war with Pakistan. I am not making Kashmiris responsible for that. It is the import of terrorism, terrorists and terrorist organisations that are constantly creating problems. And it is a fight with Pakistan, not with Kashmiris.
Does Gadkari Approve of Trolling by BJP Workers?
Gadkari was the only minister, after Home Minister Rajnath Singh, to speak out in support of his Cabinet colleague Sushma Swaraj, who was trolled in connection with the inter-faith couple passport row.
Speaking to Thapar, the union minister backed Swaraj saying that the way some people attacked her was "absolutely wrong." However, when asked why she was trolled by people who claimed to be BJP 'bhakts', Gadkari said it was the "habit of media to associate the trolls with BJP."
Who says? This is the habit of the media. They make any person with the saffron cloth a BJP representative. He is not at all related to us. As an ex-president of BJP, many times during TV discussions the people who are representing BJP have no connection with us. It is a planned conspiracy.
He said that the party does not stand with those representatives who are making irresponsible statements, adding that they were individual statements and not those of the party.
On PM Modi's Silence
When asked why the prime minister did not speak out in support of Sushma Swaraj, or when Gauri Lankesh was murdered, Gadkari backed Modi, saying that he did not want to "play politics."
Firstly, Modi and BJP does not wish to play politics on the basis of caste, creed, sex, and religion. We are crystal clear about it. Our concept of democracy and Hindutva is totally different. We are not against minorities. We feel we are a part and parcel of the same family.
Home Minister Rajnath Singh supports Sushma ji. Ex-president Nitin Gadkari supports Sushma Swaraj. This would unnecessarily create a false impression of the Prime Minister. He is equally in support of Sushma Ji. When we speak we are representatives of the Prime Minister.
On 2019 & His Chance At Prime Ministership
With the general elections just nine months away, Gadkari expressed confidence that the BJP will win 272 seats alone and will form the government again.
When asked about the possibility of Gadkari himself becoming the prime ministerial candidate if the BJP does not get a majority, as he is "more acceptable to the allies", Gadkari said:
I have got way more than I deserved. I do not belong to any race. I follow the party's ideology. I am happy as a minister. I do not wish to be a candidate. I am fully confident that BJP will get majority. Narendra Modi will be prime minister.