Illegal parking of four-wheelers making city roads congested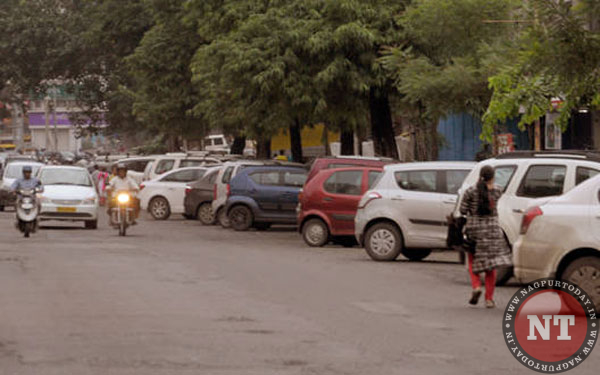 Nagpur: Encroachment on all major roads in the city has become a matter of concern. Pedestrians are finding it very dangerous to walk on such main roads whereas vehicles parked at non-parking areas on congested roads are adding to the traffic problems. Heated aruguments are witnessed at many places due to parking of four-wheelers at narrow lanes and roads.
At commercial places, four-wheelers are seen parked from morning hours till late in the night. The traffic police has failed to take any action on this parking despite regular complaints from citizens. The number of vehicles is increasing rapidly in the city and these vehicles are parked at public places due to lack of sufficient parking spaces.
It was also brought to notice that the parking spaces allotted in flat schemes and societies are being used for commercial purposes and therefore the residents are forced to park their vehicles on roads. Normally, only a few four-wheelers can be parked inside the compound of a flat scheme. All other vehicles are parked outside the compound on narrow roads making it more congested. it is a matter of debate as how these buildings are sanctiond when there is no parking space.
The parking problem is worse in commercial areas like Dhantoli, Ramdaspeth, Sitabuldi, Mahal, Itwari, Sadar, Chhaoni and Sakkardara. People in large number arrive from other cities for medical treatment at Dhantoli and Ramdaspeth, which are congested due to the parking problem. It is always seen that even ambulances and fire brigades can't move on roads due heavy congestion in these areas.
Similar is the situation at Sitabuldi. Those having their businesses at the main road park their vehicles at Temple Bazaar and Buty Road from morning to night. When the nearby residents object o this, heated auguments and some times fights take place between them. There is pay and park facility at many places in this area but vehicle owners avoid paying money for it and instead park vehicles on roads.
The citizens residing in commercial areas are now fed up of these traffic woes. The negligence by traffic department is also growing the resentment among the residents. The traffic department needs to pay immediate attention to these problems and initiate action against those floating the rules.