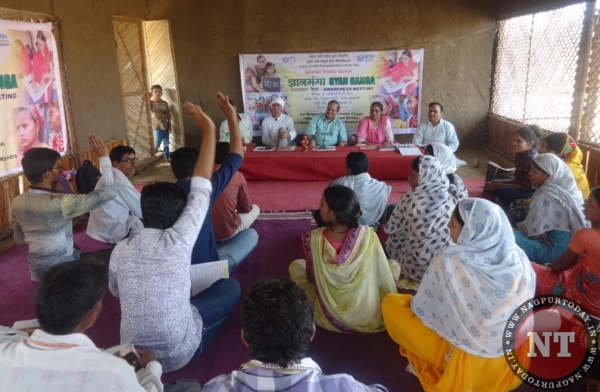 Nagpur: Indira Gandhi National Open University (IGNOU) Nagpur Regional Centre has been trying to reach out to hitherto unreached sections of the society through Gyan Ganga Awareness Meetings and spreading the message of Higher Education at their doorstep. In this direction it made efforts in reaching to Gadchiroli tribals, prisoners, rural people, Commercial Sex Workers and Transgenders. In continuing its efforts, recently it has conducted "Gyan Ganga" meeting for Melghat tribals at Lawada village, Dharni Taluka, Amravati District. The participants come from different villages like Kasaikheda, Chitri, Lawada, Ranamalur, Kotha etc.
The meeting has been arranged at Gram Gyan Peeth, Lawada in association with Sampoorna Bamboo Kendra and its Convener Sunil Deshpande. In the introductory speech Sunilji said that IGNOU is a Global University and such a big University has come to your door step and he advised the locals to use this opportunity to educate themselves. He also categorized the villagers who studied up to 12th and above 12th. It is observed that majority are non 10+2. Dr. Aruna Gajbhiye, Executive Member, Sampoorna Bamboo Kendra informed the villagers that she herself completed PG Diploma in Disaster Management from IGNOU and was very useful for her Ph. D. Dr. P. Sivaswaroop, Regional Director, IGNOU Regional Centre Nagpur in his address said that IGNOU is for those people who have a desire to study Higher Education, but their conditions like economic, geographical, social, physical conditions prevent them from going to college daily.
It offers quality education at their doorstep. He said that an educated parent can effectively monitor/guide their children education and help other villagers. He said that IGNOU offers non formal stream of education through BPP for which any 18 years completed adult (whether they studied upto 8th, 10th or 12th fail) can take admission. In the 6 month course after 6 month study and exam, successful candidate can join for 1st year of BA, BCOM, BSW, BA Tourism Studies. He gave examples of prisoners including women prisoners studying being in jail, Gadchiroli tribal women and tribal youth, commercial sex workers etc.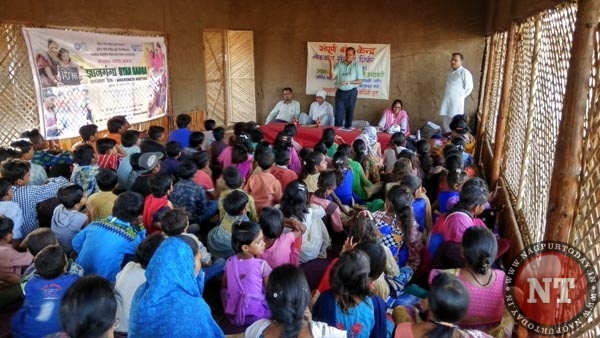 He informed that IGNOU provides free education to SC/ST students. It is observed that all 25 villagers who attended the meeting are interested to join for some program or other of IGNOU. 5 people have come prepared with relevant documents and photographs and submitted the filled in Admission forms and documents and remaining will submit the documents to Sampoorna Bamboo Kendra to fill up the form through Online or Offline.
Sampoorna Bamboo Kendra also organizes "Lok Kala Sanskruti Shibir" for the Melghat children for 5 days. This 5 days session was inaugurated by Dr. P. Sivaswaroop, Regional Director. In his inaugural speech he said that todays children in cities are living away from the nature and culture. This type of program will bring them near to nature and culture. He said that such programs be conducted in cities also. Sunil Deshpande explained the objectives and the workshop methodology. Dr. Aruna Gajbhiye, Ravindra Gajbhiye of Paani Foundation and Senthil Raj, Assistant Registrar, IGNOU Nagpur also addressed the children.