IGNOU took academics to even people facing capital punishment, says Dr. P. Sivaswaroop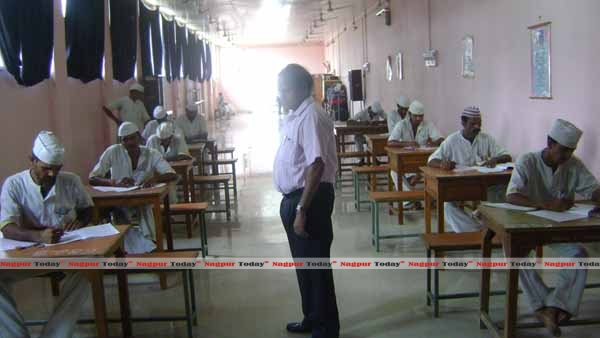 Nagpur News.
Indira Gandhi National Open Unviersity (IGNOU) has to its credit taking education to the far remote part of India, pioneering the scene in its segment. At present IGNOU has got 19 centres all over the country having Delhi as its head office. The academicians at this Open University now look forward to raise their admission quantum to 30 lakh students in the near future. Dr. P. Sivaswaroop, Regional Director of IGNOU's regional centre at Nagpur has been making all round efforts to reach out to large number of students in order to make them employment enabled.  This regional centre here covers all the districts of Vidarbha and Marathwada. Earlier, Dr Sivaswaroop was Regional Director for Madhya Pradesh.
He joined IGNOU in 1993 as an Assistant Regional Director and since then he has contributed a long way in the education and placement of person from rural areas.
He recently started vocational skill certification programs for prisoners, which is the first of its kind in the country. He has also used radio for teaching inmates. He has been making efforts to provide health related courses in interior tribal areas like Bhamragarh,  Allapalli in Gadchiroli District. He has been instrumental in providing 100% job placement to IGNOU tribal students in Gadchiroli district.
In an exclusive chat with Nagpur Today, Dr. P. Sivaswaroop shared his views on the education scene and changing perspectives in this field. He also told about the transformation of IGNOU as the prestigious distant learning avenue through these years. Excerpts…
How IGNOU has evolved all through your journey this far?
Earlier mostly unemployed people were joining IGNOU whereas now more numbers of youngsters who believe in earn and learn are coming on board. As compared to other distance learning institutes and regular colleges, IGNOU has got very reasonable fee structure which is affordable by middle class family youth. The fee is Rs.35000 for two and a half year course.
What's the ratio of students coming from rural and those from urban areas?
We have 55% students from rural areas and 45% students from urban pockets. IGNOU's strong communication technology IC, IT, Gyan Darshan, web conference, bulk mails, SMS services , TV and radio helps lot in taking admissions from the rural areas.
Any significant development recently?
Yes we do have many and to mention, IGNOU has been succeeded in taking admissions even from the prisoners who were pronounced capital punishment. They are also coming out with a Bachelors Preparation Programme under which a student can complete his studies in the subjects he is comfortable and good.
How about infrastructure to cater to such huge number of students?
With an office at Hindustan colony, IGNOU has finalized a huge space as a Multimedia hub space in Manewada here, which will be opened shortly.
How IGNOU has contributed in securing jobs to its students?
Recently IGNOU has succeeded in getting jobs for the rural students, both and female in getting jobs at Care Hospital after doing their relevant courses from IGNOU. It is great achievement for them.
What's the strength of students in your centre?
As on date total students with IGNOU are around 7000 per year. Yearly convocation is held in Delhi, and in other areas also through satellite.
What's your passion?
CHEMISTRY IS MY PASSION. (smiles)
Profile
–        Dr. Sivaswaroop, basically from Hyderabad, has done Ph.D in Chemistry, MA (Dist.Edn. ) PGD in Ethics. He completed his earlier education from Amlapulam, East Godewara district. He received Ph.D in Chemsitry from Andhra University with Best Thesis Award, followed by Post Doctoral Work at University of Hyderabad with Prof Gautam R Desiraju.  Also completed 9 PG and Diplomas in different subjects like Ethics, IPR, Distance Education.
–        Recently he has been admitted as FELLOW OF THE ROYAL SOCIETY OF CHEMISTRY (FRSC) London, a  Prestigeous Honour for Chemists across the Globe.
–        Presented with  KRISHI GOURAV Award by Bharat Krishak Samaj, Maharashtra  and by Jai Kisan farmers Forum, Nashik for his unique efforts in providing Agriculture related Courses.
–        Recently has been awarded with VIDARBHA BHUSHAN award.
–        Published papers in International Journals in Chemistry, Distance Education and Ethical issues.
–        Ph.D  Adjudicator for several Universities and reviewer of Research Papers of International Journals.
–        His Research Interests include Pharmaceutical Analysis  and guiding Ph.D students. He has been developing a 1 year PG Diploma in Pharmaceutical Analytical Techniques, for enhancing employable skills among Chemistry graduates.
–        He was appointed by Government of Andhra Pradesh as Chemistry Expert in the Technical Monitoring Committee of the Cloud seeding experiments.