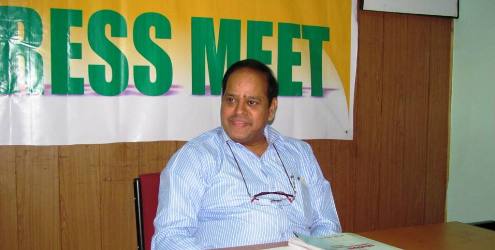 Nagpur News.
In its efforts in bringing out more courses relevant to different sections of the society. IGNOU has started one such course of Certificate in Adolescent Health & Counseling (CAHC), informed Dr. P.Sivaswaroop in a press meeting held at IGNOU Regional Centre on Thursday October 31.
He gave details of ongoing admissions, new courses launched, IGNOU course for enhancing employability of the Graduate and their Gadchiroli experiment in which they are trying to give employment to the 10th pass Tribal Youth. Dr. N. R. Kotwal, Director of Colours Children Hospital and who also did IGNOU Certificate in adolescent Health & Counselling shared his experiences and need for such course.
It is a six months course and minimum eligibility is any teacher or a graduate. Now a days we are observing that many youngsters especially in their teen ages, are committing suicides for small reasons like less marks, mother scolded, love affair failure etc. So, to avoid such problems the teachers and parents need to be educated. IGNOU has started a six months Certificate in Adolescent Health & Counselling (CAHC). The course has theory, self-activities and practical sessions. The fee is Rs.2000/-.Interested parents and teachers of different schools can register for this course. It will enhance the awareness of the teachers and parents how to tackle such situation.
Fresh admissions
Dr. Sivaswaroop said that Indira Gandhi National Open University offers admissions in two cycles starting from January and July every year. The admissions for January 2014 session are open up to 16th December 2013. IGNOU is offering courses in wide variety of fields including B A in Tourism, Bachelor's in Social Work, Masters in Gender and Development Studies, Masters in Gandhi and Peace Studies, MCA, MSc Dietetics and Food Service Management, PG Diploma in Hospital and Health Management, PG Diploma in Geriatric Medicine, Diploma in Nursing Administration etc. The list also includes Bachelor's Preparatory Programme (Non formal stream for 5th fail / 8th fail etc non 10+2 passed candidates to become graduates) also.
Dr. Kotwal of colours hospital said that parents are very ambitious about their children. They guide them in each and every part of their decision. He said that those who handle adolescents like Parents, Teachers, Gynecologists, Doctors, Nurses and also Journalists should join this course. This course helps the learners to understand importance of stress management, pain, pressure, psychology etc. of Adolescents. He also said that other courses of IGNOU like Geriatric Medicine, Home Based Health Care are very essential for today's society. He said that Indian Medical Association and other organizations should also encourage their members for such courses of IGNOU which are very affordable and convenient for working professionals. He concluded his saying "IGNOU ignites Gyanjyoti" He said that at the age of 63 he joined this course for understanding the concept and widening his knowledge.
IGNOU Courses for enhancing employability of graduates 
The Regional Director said that IGNOU is offering several Certificate (six months) and Diploma (One year) courses which any regular college student can also do simultaneously, so that he / she can increase his / her employability. For example, BA English students can do Diploma in Creative Writing in English, History students can do Tourism Studies course, BSc students can do Laboratory Techniques, Water Harvesting and Management etc. Any Graduate students can do the Certificate in Information Technology, Certificate in Information Security etc. Law Graduates can do Consumer Protection, Human Rights, Anti Human Trafficking, Cyber Law, Patent Practice etc. So we suggest to the UG / PG students to enhance their employability through these Add on Certificate Programmes.
Gadchiroli Experiment
While sharing their experiences in Gadchiroli, Dr. Sivaswaroop said that under our "reaching the unreached" concept we started our Job Oriented Vocational Health Course "Certificate in Home Based Health Care" (CHBHC) programme in Gadchiroli for the benefit of unemployed tribal youth with 10th pass qualification. We requested Care Hospital, Nagpur to employ these students from Gadchiroli after successfully completing their course. The Hospital has readily agreed. When this news spread in Gadchiroli through media the response was unbelieveable! For 30 seats in the Gadchiroli District Hospital Centre, we got 64 applications. As we do not want to disappoint any of the interested candidates who want to study further, we opened a new centre at Christanand Hospital, Brahmapuri for these additional applicants. As per our promise, we are in contact with other corporate Hospitals in Nagpur to employ these additional candidates at Brahmapuri also so that all should get employment. We receive positive response from these Hospitals and associations also. Our target is to give 100% employment to these 10th passed tribal youth of Gadchiroli district.
He said that we are also planning to launch some more new courses like Certificate in Competency in Power Distribution (CCPD) in collaboration NPTI, Nagpur and PG Diploma in Urban Planning and Development etc.