Nagpur: Indira Gandhi National Open University Nagpur Regional Centre has celebrated its 9th Foundation Day with the theme of "Learning has no last step". As per its practice, the university invited 3 of its Senior Students namely, Smt. Nanda Jichkar, Mayor, NMC, Dr. Pradeep Deshmukh, Prof. and Head of Department of Community Medicine in AIIMS Nagpur and Smt. Namrata Tiwari, General Manager, BSNL.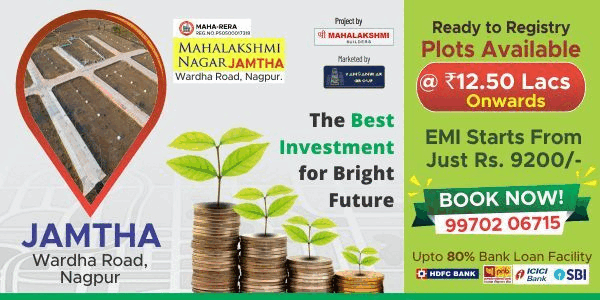 Dr. P. Sivaswaroop, Regional Director, IGNOU Regional Centre Nagpur in his welcome address announced that Maharashtra Government has allotted land near Omkar Nagar Square at concessional rate. IGNOU will be paying the amount shortly. He thanked Hon'ble Chief Minister Shri. Devendra Fadnavisji, Union Minister Hon'ble Shri. Nitin Gadkariji and Mayor Smt. Nanda Jichkar and other government officials. Dr. P. Sivaswaroop said that compared to last year, 37% growth in the enrollment occurred and they opened 6 new study centres across the region. They include Tribal Study Centre at Kurkheda in Gadchiroli district, Pandarkawada in Yavatmal and Waifad in Wardha district and 3 in Nagpur.
He said that IGNOU is having 60 Certificate Programs of 6 months duration which can be useful for skill up gradation of Vidarbha youth. He also announced that in addition to existing French Language Program IGNOU will be starting Japanese, German and Spanish language courses shortly. He explained this year theme "Learning-Has no last step". Common people think that education is upto a certain age and once you get a job, no need for further education. But in today's knowledge society, everyone has to keep updating their knowledge, skills and qualification, to achieve success.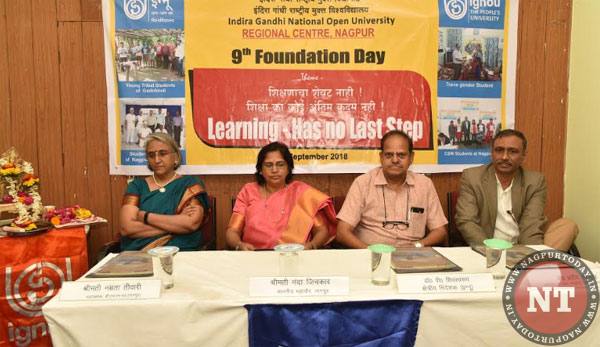 Today we have invited 3 such students of IGNOU, who are already at higher positions in their chosen careers, but still they joined IGNOU for various courses. Inspite of their busy schedules, they proved the proverb "When there is a will, there is a way". Mayor madam completed MA Psychology, Smt. Namrata Tiwari, General Manager of BSNL has completed MBA and Dr. Pradeep Deshmukh studied PG Diploma in Advanced Statistics from IGNOU.
Smt. Nanda Jichkar in her Chief Guest address said that she studied MA Psychology from IGNOU as she has to face different people with different Psychologies and to understand mob psychology. She searched the internet for psychology courses and found IGNOU as the most suitable and best university. As per her expectations the study material provided by IGNOU and the counselors are excellent, the counseling classes were also held systematically.
She could complete the program in the minimum prescribed 2 years. Smt. Nanda Jichkar said that one should have interest and remain as a student, then success follows. She said that her study habits made her to study thoroughly the international documents and it helped in her duties as Mayor. Today NMC is on top of the list for Swachha Bharat and also she is the only representative from Asia in the Global Covenant of Mayors (GCOM) an international forum of Mayors. At the end she said that education is like meditation and we should teach our children also to learn continuously.
Dr. Pradeep Deshmukh, Professor and Head of Department of Community Medicine of AIIMS, Nagpur appreciated IGNOU as it is helping the people with unfinished desires of acquiring education and continuing their earning. In his own case he said that he loved mathematics during school days but for various reasons he pursued biology and now become Professor in AIIMS. Now, to cherish his love for maths he joined the Advanced Statistics Program of IGNOU. He said he is enjoying the study of excellent study material and the best teachers at Hislop College IGNOU Study Centre.
Smt. Namrata Tiwari, General Manager, BSNL said that when she started MBA Program of IGNOU she had a small kid and work pressure. She completed the program and now she is willing to join for another program. She concluded stating that age has no bar and every moment in life gives us a learning experience and we should be ready to learn. Dr. Shyam Koreti proposed Vote of thanks. The program was conducted by Dr. (Mrs.) Shakti Sharma. The Program was attended by students, Regional Centre staff and others.