If Traders Insecure, No City Or State Or Nation Can Develop: JT. CP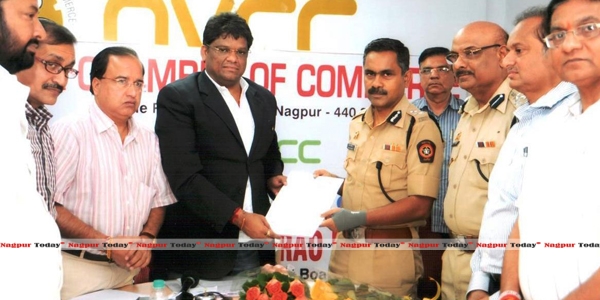 Sanjay Saxena, Joint Commissioner of Police &  kantTarawade, Addl. Commissioner of Police (North Region) Nagpur visited NVCC for an interactive meet with the trading community of city on Friday the 28th February, 2014.
Dipen Agrawal, President of the Chamber accorded floral welcome to  Sanjay Saxena, Jt. Commissioner of Police and  kantTarawade, Addl. Commissioner of Police (North Region) and while addressing said that under the able and dynamic leadership of Commisioner of Police & Jt. Commissioner of Police,  department is doing their best of efforts to control the crime rate in the city of Nagpur. As an acknowledgement and contribution, he put forth few suggestions for the consideration of Police authorities. He briefly narrated the recent incident of dacoity held in Civil Lines at the residence of betel nut trader and dacoity&murder of Jeweller and his family at Tumser, Bhandara District, which has shaken the trading community resulting in a grip of fear and insecurity. A memorandum highlighting problems pertaining to law and order situation in the city of Nagpur was handed over to  Saxena and  Tarawade, viz; Failure on the intelligence front and suggested to improve on intelligence network on the top priority to avoid major incidents before it take place,Nagpur is developing day by day with it comes the negative of increase in crimes. It was suggested to have a mechanism of registration of new entrant in any locality. There has been number of incidents of chain snatching and it is observed that the soft targets are senior citizens and women. It was suggested that in the matter to have increase police patrolling in certain segments of the city in certain hours will surely help. Patrolling of Police personnel at important business locations, markets- precautionary measure, alternatively police chowki, positioning. Installation of CCTVs cameras in the 2nd capital of Maharashtra Nagpur in business areas like Itwari, Sarafaoli, Maskasath, Grain Market, Sitabuldi main road, Dharampeth, Sadar Residency road and residential colonies which are the soft targets of anti-social elements. Increase in number of Police stations and police personnel's is a must visa-vis the population of the city.
It was suggested that for starting joint patrolling system during night hours in association with police and security guards engage by business community in busy markets and citizens in residential colonies to avoid breaking of shutters, lock & thefts.Smooth traffic is a major contribution for a city's development it was suggested that police department, Nagpur Municipal Corporation & Nagpur Improvement Trust along with few members from the Trade Associations should form a Committee to finalize the infrastructure requirement and implement plan for maintaining better traffic in the city. Parking biggest challenge – clear city definition of parking, yellow line, no parking zones be prominently displayed. Traffic police focuses more on making challans on wrong side one way, passing through red signal, instead of preventing the same. Positioning should ensure prevention of crime at the beginning point rather than at end point Many signals are off throughout the day and many signals are on throughout 24 hours, making confusions in minds of people. Hence it was suggested that a comprehensive policy for traffic signals be provided and be informed to all citizens for forceful implementation. There were so many deaths due to car/bike hitting the road divider, which at night is not visible hence it was suggested to provide sodium light – sticker at the road dividers. Many electric poles are right in between the road since last so many years. Appealto take up jointly with N.M.C. and MSEDCL, as a safety measure in the interest of civilians. It was also suggested to form a committee with the trade representatives for better co-ordination, smooth functioning and monitoring law and order and traffic.
While addressing  Sanjay Saxena, Jt. Commissioner of Police said that  K.K. Pathak, Commissioner of Police could not come in to-day's interactive meeting as he had to go to Mumbai for an urgent meeting and he directed me to attend the meeting.  Saxena further said that the business community of the city are very important citizens as they have sole responsibilities for the development of city. He further added if the traders are insecurethen no City, State or Nation can develop. He suggested that if problems arise traders as well as office bearers of trade Associationscould contact him or kantTaraware Addl. Police Commissioner (Nagpur North Zone) to ease the problems. He further said that the points/problems indicated in the Memorandum would be discussed with the Commissioner of Police and maximum relief would be given to the citizens.
During discussions  Hemant Gandhi, Hon. Secretary of the Chamber drew the attention of the officers towards during LBT agitation, some of the traders were arrested & cases were lodged against them by the police officials. Thepolice cases have not been withdrawn by the departmentinspite of the word of withdrawal given by the Chief Minister himself.
Saxena, Jt. Commissioner of Police said in this regard that shortly the cases would be withdrawn & he would insure that the report on this will be submitted to Home Minister within next 7 days.
Issues submitted in writing to the Jt. Commissioner of Police by Nagpur ItwariKirana Merchants Association, Hotel Owners Associations &Anaj Bazar were assured compliance.
While concluding the meet  Dipen Agrawal, President said that the members of trading community through Trade Associations would co-oprate with the Police Department as always.  Hemant Gandhi, Hon. Secretary proposed vote of thanks.
Prominent present were Sarva Dipen Agrawal, President, RameshkumarjiMantri, GovindlaljiSarda, NileshSuchak, Jagdishji V. Bang. Past Presidents, Mayur Panchmatia, PrakashMehadia, Ajaykumar Madan, Hemant Gandhi, Raju vyas, Manubhai Soni, Sachin A Puniyani, Ashok Sanghvi, Chunibhai Shah, ArjundasAhuja, Gajanand B. Gupta, Jaiprakash Parekh, ManojLaturia, Natwar Patel, PratapMotwani, RajubhaiMakhija, RamavtarTotla, ShabbarShakir, SuhashKshirsagar, SanjayrajModhSaraf, SantoshKabra, Suryakant Agrawal, Umesh Patel, Vijay kewalramani, ViranChandak, DhirajMaloo, HastimalKataria, Shankar Sugandh, ArvindKotecha, Kamlesh V. Samarth, Narayan D. Toshniwal, Bhavanishankar Dave, Harish Krishnani, Harish Dudeja, SayedNawab Ali, Rajesh Amte, Raju Vyas, BhaskarAmbade, AjitParulkar, Yogendrakumar Agrawal, Vijaykumar Puniyani, Zoeb Abbas Ali, PradipkumarPanjwani, Pyush V. Fattepuria, Bajranglal Agrawal, Dr. HargovindMurarka, Anil MantriHasmukh R. Patel, A.K. Deshpande, Harpreet Singh. states in a press note issued by  Hemant Gandhi, Hon Secretary of the Chamber.