Union Road Transport, Highways and Shipping Minister Nitin Gadkari meets journalists in the Meet the Press organized by Nagpur Union of Working Journalists on Sunday. 
Nagpur News.
Union Road Transport, Highways and Shipping Minister Nitin Gadkari on Sunday addressed media in Nagpur at a Meet the Press programme. The meet was organized by Nagpur Union of Working Journalists and Tilak Patrakar Bhavan Trust. Gadkari outlined his priorities and plans for development of Nagpur and the country as a whole.
The meeting started with the dignitaries and journalists observing two-minute silence to pay tributes to former Union Rural Development Minister Gopinath Munde who died in a road accident in Delhi on June 3.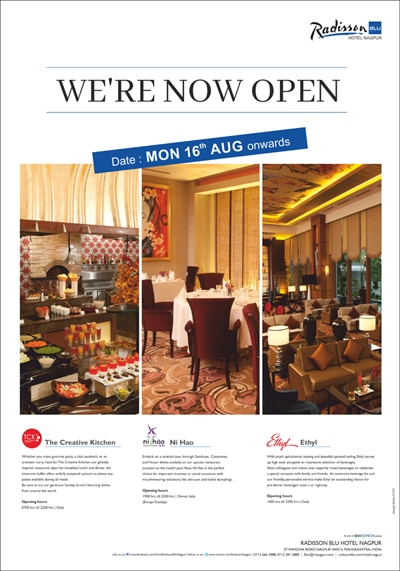 Tilak Patrakar Bhavan Trust President Pradeep Kumar Maitra introduced the chief guest Nitin Gadkari and said that just as Narendra Modi is called a Vikas Purush of Gujarat and now India, Nitin Gadkari is the Vikas Purush of Maharashtra. He added that it is matter of great pride that Gadkari is representing Maharashtra and Nagpur in Delhi. However, he said that Nitin Gadkari has specifically requested the office-bearers of NUWJ and Tilak Patrakar Bhavan Trust not to felicitate him on the occasion as this is not the right time nor appropriate since Gopinath Munde passed away recently.
Maitra then put up some of the citizens' expectations before Gadkari, which included:
• A New Zonal office of SECR at Nagpur. He justified it by saying that if this is done new jobs will be created.
• Shifting of Central Railway Headquarters to Nagpur.
• AIIMS Hospital in Nagpur.
• IIT & IIM Institutions in Nagpur
• Upgradation of both IGGMC & GMCH
• Clearing of all hurdles of MIHAN Project for earliest start.
The Union Road Transport, Highways and Shipping Minister Nitin Gadkari, who is holding additional charge of Ministry of Rural Development, started his address by paying his tributes to Gopinath Munde. He said the accidental death of Munde is a big loss to the party, Nagpur and the country as a whole. His death is very unfortunate and tragic as well. Munde rose to the glorious height from grassroots level, Gadkari said.
Gadkari thanked the media of Nagpur for showering their blessings, good-wishes to him and asserted that he will strive for fulfillment of expectations of the citizens of Nagpur. He said that right from the period when he was the student leader, people have seen him and added that he'll never forget the very large contribution the citizens have made by electing him in Lok Sabha election.
The Union Minister gave a layout of all his priorities, projects and implementation that he has planned and are in the process of execution. Following are some of the ambitious projects Gadkari wants to pursue:
1) Nag-Nadi: Gadkari said that Rs 117 crore have been sanctioned for the project of cleaning the Nag Nadi. However, the project has been sent to IIT Kharagpur for its appraisal and planning. After the appraisal (which we'll get in a month or two) the work will be started within 3-4 months. He added that soon, cleaning of Pili Nadi will also follow.
2) Tourism: Gadkari said that the Tourism Ministry has sanctioned Rs 50 crore for cleaning and beautification of Ambazari Lake, Telankhedi Lake, Shukrawari Lake and Sakkardara Lake. He said the work will start within 4 months.
3) National Highway: The Minister that Rs 280 crore have been sanctioned for the road at Pardi, the under bridge etc. NMC has prepared the design. He said that he'll try and bring the project within his jurisdiction and get it completed.
4) Khapri Bridge: He said that there is a need for double-lane of Khapri Bridge since the vehicular movement has increased manifold on the stretch.
5) Direct-Long-Flyover: Gadkari said that he intends to make a long flyover directly from Zero-Mile to Chhindwara Road and Zero-Mile to Khapri in order to ease the vehicular movement within the city.
6) Ring Road: Gadkari claimed that the work of the Ring Road is only partially completed and another half is still pending which would be undertaken and completed soon. Some of the stretches like Hingna to Kalmeshwar and Kalmeshwar to Katol have problems and hindrances like land-acquisition etc. He said that these problems will soon be sorted out on priority basis and the work of ring road will commence earnestly. He also said that the some work of highway from Nagpur to Jabalpur is pending because of non-clearance from the Forest Department. However, he assured that he will speak to the concerned officials and the construction will begin. He added that he intends to make a 4-lane National Highway from Nagpur to Amravati, Butibori to Tulzapur to Ratnagiri. The Minister said that he has called for a meeting of all the officials on June 14, 2014 to discuss and finalize the project.
7) Metro Rail: Gadkari said that Metro Rail is going to be one of the major projects he would be undertaking in Nagpur. He said that 16 NOCs (No Objection Certificates) are required out of which 13 have already been received and 3 more are with the Planning Commission which will also come through by June 9, 2014. He said that once he receives all the NOCs, he will present it in the Cabinet and after approval, the work will get underway in 4-6 months.
8) MIHAN Project: He said that whether it is the journalist or the politician or the businessman or the labour leader, everybody has contributed for its present status. However, he assured to set things right by speaking to the Central Government to intervene and get things moving. Gadkari said that he will arrange a meeting with the Union Finance Minister in Delhi for officials of MIHAN and sort out the issues. He added that he had a meeting with the Chief Minister of Maharashtra 7 days ago but no action has been taken yet but justified the delay in view of Munde's demise. He added that a meeting is scheduled forJune 14, 2014 to sort out issues of power, water, land acquisition, etc. Gadkari further said that the work on the Airport Taxiway will also be decided soon. He said that .63 hectare land owned by a person is going to be acquired soon and the things will get moving once again.
9) Eco-Tourism: Nitin Gadkari said that we have got 350 tigers in various parks and forests like Karmazhari, Melghat, Tadoba, Pench, Bordharan etc. He said that he wants Nagpur to be declared as Capital of Tigers and added that this will a boost to world tourism and tourists will throng to come to Nagpur. He claimed that one foreign tourist means 8-10 people's employment.
10) Sickle Cell: Gadkari also claimed that the Sickle Cell affliction is rampant in tribal and SC community of the city. He said that the required facilities are lacking and many machines are un-operational in almost all the government hospitals in the city. He said that he has called for a meeting to discuss the issue. He claimed that so far Rs 170 crore have been sanctioned for improvement of the situation yet no tangible results are seen. He assured to do the best to get better services soon. He claimed that he had proposed and had got approval of a Sickle Cell Unit in Nagpur.
11) Water: The Minister said that the 24X7 water supply has so far been a success. He said that people from other states are coming to study the operational method and added that the Fourth Stage of the project stage has encountered some problems which will be sorted out soon.
12) Roads: He admitted that the contractor who was building the Over Bridge on Chhindwara Road could not complete it on time, however, the road will soon be made operational. He added that he intends to make many city roads into Cement or Concrete roads. He said that he has asked NMC to take a loan of Rs 200 crore from Bank of Maharashtra to lay the roads. Gadkari said that he got the approval from the Centre for the same too. He claimed that while the life of bitumen roads is 4-5 years, the life of concrete roads is 500 years.
13) Garbage: Gadkari said he has spoken with NMC officials about the garbage treatment plant at Bhandewadi. They are trying to sort the plastic element out so that they can sell the garbage. He said that they are working on a process for reducing the foul smell emanating from the garbage.
14) While concluding, Gadkari said that when I meet you next time, I'll come up with the list of all the achievements I did in one year, which was not done in the last 25 years. However, "I need your love, support and co-operation to succeed", he said.
While answering a question of a journalist on the absence of any flight to South India (Chennai & Kerala) and to other foreign countries, Gadkari said that he'll take initiative and ask the Civil Aviation Minister to start operations for south, too.
Answering to another question, the Minister said that he is looking into the cleaning process of River Ganga and soon after, he intends to use Ganga for transport. He claimed that what costs Rs 1.50 paise for transporting on road will cost only .50 paise on water. He expressed his intention to start passenger transport, too. He said that soon one can travel from Allahabad to Hubli on boats faster than road or rail.
Replying on farmers' suicides in Vidarbha, he said that this issue is on the highest priority of Government agenda and they are working to ease the financial burdens of the farmers, like installing solar panels to run motor pumps to water the fields as well as for domestic use in houses. Construction of Green Houses will help farmers grow fresh vegetables.
On the crucial separate Vidarbha issue, Gadkari said that separate Vidarbha has been the party's aim and soon it will come to pass.
On beautification of the city, he said that he intends to make a statue of Vivekanand in the middle of Telankhedi Lake. He said that I wish there could be light and music show every day and a big screen where the life and works of Vivekanand could be seen from the banks of Futala Lake.
While answering a question on 150-year celebrations of Nagpur city, he said that there will be an 8-day Mahotsav and that he will take the Mayor to Delhi for inviting the President of India to grace the function. The President will certainly come for the celebrations, Gadkari said.
Others who were present on the occasion include Shirish Borkar, Secretary of Tilak Patrakar Bhavan Trust, Brahmashankar Tripathi, Anupam Soni and other office bearers.