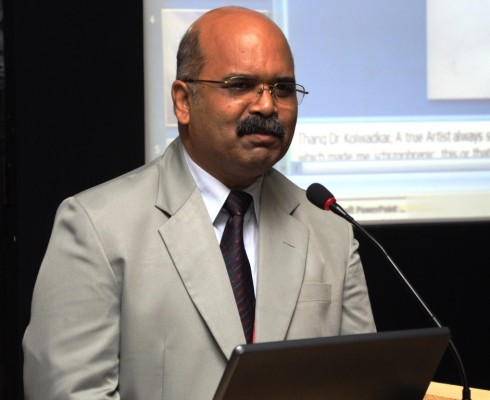 An anesthesiologist pilots major surgeries by keeping the patient unconscious while ensuring that their vital organs are still working. A patients life and body functions are in the hands of an anaesthesiologist during surgery. They also work o minimise pain to Critical Care patients.
Nagpur Today spoke to leading city Anaesthesiologist and Chairman of Indian Society for Critical Care Medicine- Nagpur Dr. Anand Dongre, about this line of medicine. Following are excerpts from the interview.
Meghna, Nagpur Today: What made you take up Medicine as a career, and choose Anaesthesiology as your specialty?
Dr. Anand Dongre: If you want to be a doctor, then you should be a little imaginative, and always be ready to help someone. You should be ready to take way someone's pain. When I was training to be a doctor, my MBBS curriculum and practise has no direct satisfaction of directly working to save a life. My choices became clearer and I had a better idea of what I want to do, after Post- Graduation. It is about helping to save a life- that motivation drew me towards anaesthesiology.
Meghna, Nagpur Today: On what basis does a doctor judge whether to administer general anaesthesia, local anaesthesia or regional anaesthesia?
Dr. Anand Dongre: We look at a number of criteria, such as the type of surgery to be performed, the age of the patient, the amount of stress the patient can withstand, keeping in mind the condition of their heart, lungs, kidneys and other parameters. Every kind of anaesthesia is powerful- it is the kind of surgery that dictates what anaesthesia you can or cannot give. Otherwise, all anaesthesia is potentially fatal.
Meghna, Nagpur Today: Why is it important for the patient to be conscious in certain surgeries?
Dr. Anand Dongre: There are certain surgeries, such as neurosurgery, where we try and locate certain vital areas. In such cases, we want the patient to follow certain commands. In cases like a tumour, the patient needs to be conscious and can give you a rough idea of whether you have come upon something vital or not. Then, there are cases where a patient does not show any signs of injury to a vital area, on the outside. In such cases, we want the patient to be conscious. Otherwise in most cases, the patient wants to be unconscious.
Meghna, Nagpur Today: Morphine is endorsed by the WHO as a pain reducing drug, and is also accepted by the International Narcotics Control Board. But there is a lot of legal issue and red tape that prevents widespread use of the drug in India. Why is this so, and is it a hindrance to medical practice?
Dr. Anand Dongre: Morphine, as such, is one of the best agents (of pain reduction) so far. All other anaesthetic or pain killer drugs are weighed against it. It is the gold standard. Unfortunately, there were very few anaesthesiologists in the country during the time these norms were set.
Morphine has the drawback of possibly causing respiratory arrests, and the drug was usually administered by the paramedical and nursing staffs who weren't experts in the field in the 1980s and 1990s. Hence, the chances of post- operative death due to Morphine were high. Secondly, there are more drug addicts in India than all the anaesthesiologists combined. Morphine was used more by drug addicts than doctors. Hence, all these regulations.
There are many cases where the use of Morphine would help greatly, particularly patients who come in for repeat surgeries after already having had an angioplasty or a bypass. In those cases, Morphine would help.
Meghna, Nagpur Today: What is particularly rewarding about this line of medicine?
Dr. Anand Dongre: Anaeshtesiogy is a one- hour job, where you are the pilot. You make some unconscious and are in charge of keeping their vitals under control, while they are being treated. But in Critical Care, someone's vitals have to be taken care of for days together. Critical care is the need of the hour- trauma, suicides, accidents and head injuries happen every day, and there is a need for more anaesthesiologists. The demand is much higher than the supply. If a youngster chooses this line of medicine, he/ she has chosen the best career.