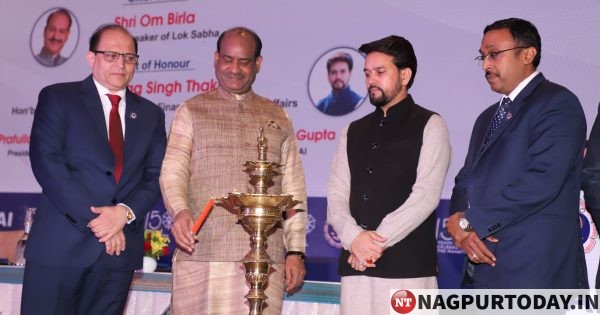 The Institute of Chartered Accountants of India (ICAI) celebrated its 70th Annual Function on February 7, 2020 at New Delhi. The event was graced by Shri Om Birla, Hon'ble Speaker of Lok Sabha as a Chief Guest and Shri Anurag Singh Thakur, Hon'ble Minister of State for Corporate Affairs, Finance was the Guest of Honour. Also present were CA. Prafulla P. Chhajed, President, CA. Atul Kumar Gupta, Vice-President and Central and Regional Council Members, ICAI.
The function witnessed the presence of more than 1500 members from the CA Profession who are providing their services in various niche areas of the businesses & are playing an important role as strong pillars of the Indian Economy.
With a glorious track record of over 70 years ICAI has been rendering and administering an internationally benchmarked qualification. ICAI is simultaneously setting benchmarks of academic excellence, grooming accounting professionals and empowering the nation while harmonizing financial reporting framework with global practices and fast tracking accounting reforms as a dynamic Partner in Nation building. With over 3 lakh members and over 7 lakh students, ICAI is the world's premier accounting body .
At the outset, Shri Rakesh Sehgal, Acting Secretary, ICAI welcomed all the dignitaries, the members in the profession and esteemed guests.
Shri Om Birla, Hon'ble Speaker of Lok Sabha while addressing the audience, The Hon'ble Speaker of Lok Sabha congratulated ICAI for completing 70 glorious years of existence with fairness, accountability and transparency. He further added that in its 70 years of existence, there has not been a single occasion when the Examination system has been breached"
Since its inception, ICAI has emerged as the regulator and developer of trusted and independent professional world class competencies in the areas of Accounting, Assurance, Taxation, Finance, Business Advisory Services and alike.
Shri Anurag Singh Thakur, Hon'ble Minister of State for Corporate Affairs, Finance while acknowledging the role of ICAI, said "The Union Govt. has identified accountancy profession as one of the 12 champion sectors. ICAI is taking all possible efforts and steps for MRAs with maximum world accounting Institutes which is the 1st step towards promoting export of accountancy services in the overseas market".
He further added "Accountancy professionals should work hand in hand with Govt. and Members should choose entrepreneurship contributing in public interest projects and be enabling partners in India's economic growth".
The legacy of CA profession and its alma mater is built on the strong foundations of contributions made by ICAI members, as well as on the support of Government and other stakeholders. Taking forward its agenda of inclusive growth, the Institute will continue to add to its glory and create heritage.
CA. Prafulla P. Chhajed, President, ICAI shared "ICAI will continue to be trusted partner and influencer in accounting, auditing and educational standard setting process. The Institute ensures that it's professionals are driven and future ready in the right mix of innovative skills, professional competencies and perspective of ethics and integrity."
Since its inception in 1949, ICAI has covered an illustrious journey by enriching the nation, adding professional value and benefitting the society. Chartered Accountants are the guardians of financial probity and are playing a dynamic role in ensuring stability and sustainability of the National growth. Today ICAI and its members are a force to be reckoned with."
While delivering Vote of thanks, CA. Atul Kumar Gupta, Vice-President, ICAI remarked "The remarkable journey of ICAI over last 70 years has led to establishing one of the premier Accounting body in the world. ICAI has been playing a key role not only for empowering the profession but is also contributing towards development of business, industry & commerce across all sectors of the Indian economy. Accountancy Profession shall continue to assist and contribute towards reaching India's goal of becoming a $5 trillion economy by 2025."
The Chief Guest also distributed awards under various categories to meritorious students, Branches/Regional Councils & Overseas Chapters of ICAI. The Institute is committed to provide the best of the accounting education, to give transparent and truthful accounting, audit and governance service to the industry and the Nation.